---
Vascular Pathology in Loeys-Dietz Syndrome: The Role of 64 row MDCT with 3D Rendering for Vascular Screening and Detection of Vascular Abnormalities
Vascular Pathology in Loeys-Dietz Syndrome: The Role of 64 row MDCT with 3D Rendering for Vascular Screening and Detection of Vascular Abnormalities
Russell H. Morgan Department of Radiology and Radiological Science, Johns Hopkins School of Medicine
Loeys-Dietz Syndrome (LDS) is a recently identified genetic syndrome, with phenotypic resemblance to Marfan syndrome (MFS), Marfanoid craniosynostosis syndrome (Shprintzen-Goldberg syndrome) and in some cases, Ehlers-Danlos type IV (EDS-IV).
Characteristic Traits of LDS (common)
Widely spaced eyes
Bifid uvula
Cleft palate
Generalized arterial tortuosity
Ascending aortic aneurysm with/without dissection
Characteristic Traits of LDS (less common)
Craniosynostosis
Mental retardation
Structural brain abnormalities
Blue sclerae
Malar hypoplasia
Congenital heart disease
Aneurysm with dissection throughout the arterial system
Loeys Dietz Syndrome: Clinical Subtypes
LDS type I:
craniofacial and vascular pathology
"craniofacial index" determines severity of syndrome

cleft palate
craniosynostosis
degree of increased intraocular distance
uvular configuration

earlier need for surgical intervention vs. LDS type II
Loeys Dietz Syndrome: Clinical Subtypes
LDS type II:
bifid uvula
no craniosynostosis, cleft palate or hypertelorism
phenotype resembles Ehlers-Danlos type IV

surgery difficult in EDS-IV due to fragility of arterial tissues
reserved for life threatening emergencies

However, LDS type II patients do well after surgical repair of aneurysms
Phenotypic spectrum and pathogenesis of a new aortic aneurysm syndrome caused by mutations in TGFBR1 and TGFBR2
LDS: Thoracic CT Findings
Thoracic aortic aneurysms are one of the hallmark findings of Loeys-Dietz syndrome.

The cause is a loss in elastin content in the aortic media resulting from defects in elastogenes

Pulmonary arteries may be enlarged
Coronary artery aneurysms, patent ductus arteriosus, congenital cardiac anomalies
Arterial tortuosity
LDS: Aortic Root Aneurysm
These are more aggressive than in MFS and require careful monitoring
Leading cause of death in LDS is dissection of the thoracic aorta
Surgery is performed in adults with LDS when the aortic root measures 4 cm
Aortic Root Aneurysm
For children, because the normal arterial dimensions increase with age, z-scores are calculated based on body surface area, using a database and software developed by Dr. Steven Colan at Boston Children's Hospital.
For a young child who has severe craniofacial features, surgery will be performed if the aortic root z-score is greater than 3, indicating that the aortic root dimension exceeds the 99th percentile
In addition, the annulus must be at least 1.8 cm to allow placement of a graft of sufficient caliber to accommodate growth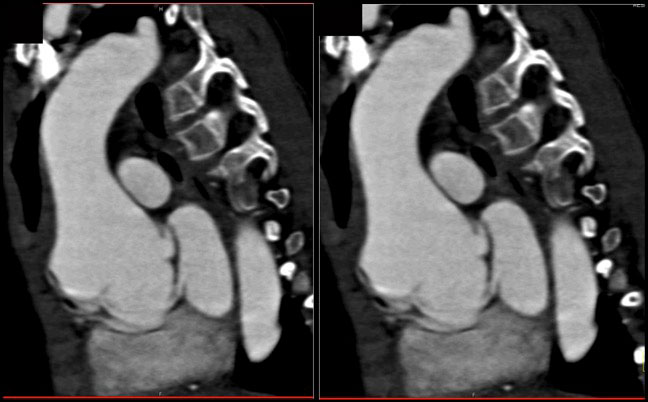 Dilated Aortic Root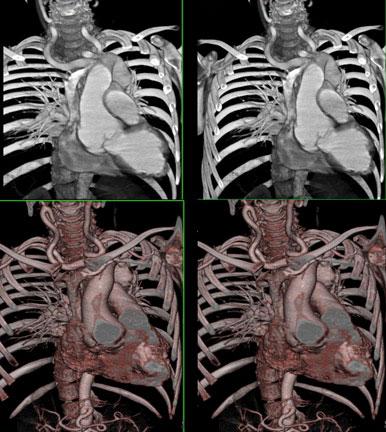 Dilated aortic root as well ectatic carotid arteries
Carotid Arteries and Intracranial Vessels: CT Findings
Tortuosity of the carotid vessels is not uncommon and may be severe
Vertebral arteries can be tortuous
Intracranial aneurysms can be present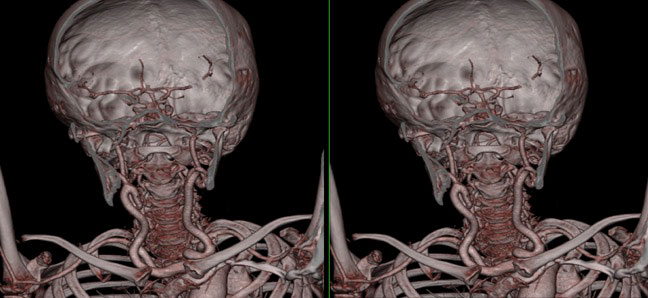 Tortuous Carotid Arteries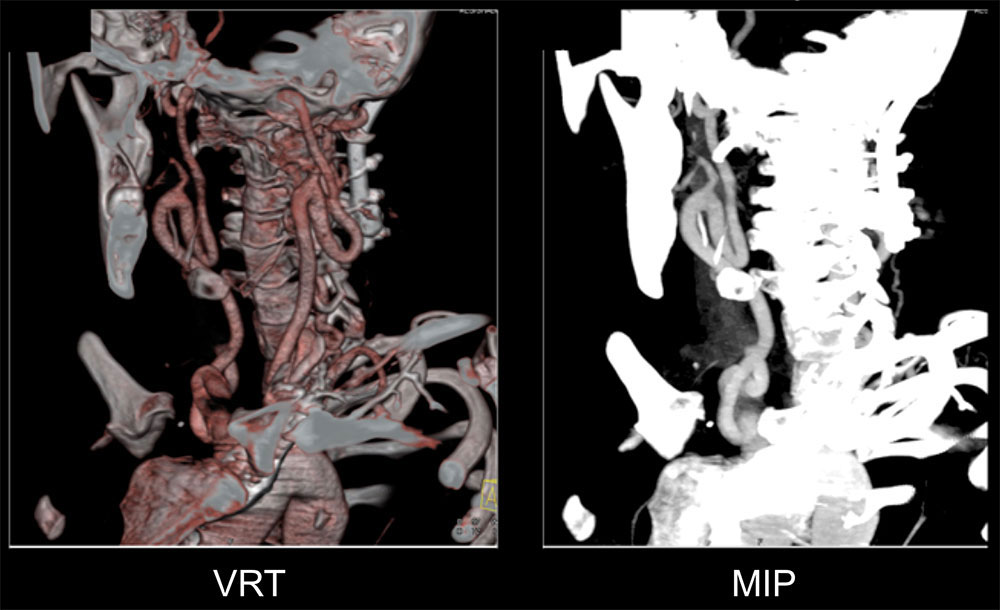 Loeys-Dietz Syndrome: Ectatic Carotid Artery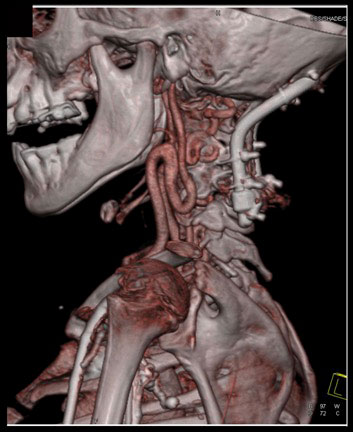 CT angiogram demonstrates markedly ectatic internal carotid arteries with no evidence of aneurysmal dilatation or dissection.
The patient had prior spinal surgery with orthopedic hardware present.
Abdominal Aorta: CT Findings
Aneurysmal dilatation of the aorta and branch vessels do occur, with branches including the celiac artery, the SMA and the IMA.
These aneurysms can be large
Small aneurysms of branch vessels off the SMA and celiac axis have also been seen.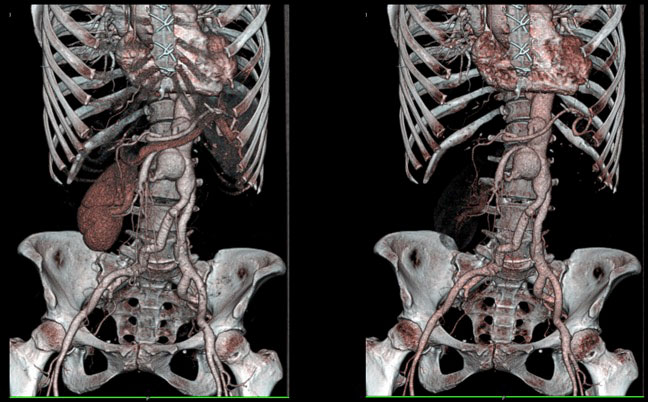 This case is unique with so many aneurysms seen off the abdominal aorta, as well as the origins of the celiac, SMA, IMA and smaller branch vessels.

Small Aneurysms of the SMA
Conclusion
In Loeys-Dietz syndrome, early diagnosis of arterial pathology and rapid surgical intervention are instrumental to delaying fatal events.
As the most significant features of the syndrome involve vascular pathologies, CTA serves as an excellent noninvasive method for detection of findings and stigmata of Loeys-Dietz syndrome.
Acknowledgements:
Elliot K. Fishman, MD
Jennifer K. Chen, BA
Pam T. Johnson, MD
Bart L. Loeys, PhD
Harry C. Dietz, MD