---
Short and Long Term Complications of Endovascular Stents: MDCT Findings and the Importance of Volumetric Visualization with 2D MPRs and 3D Rendering for Detection and Characterization
Short and Long Term Complications of Endovascular Stents: MDCT Findings and the Importance of Volumetric Visualization with 2D MPRs and 3D Rendering for Detection and Characterization
Elliot K. Fishman, MD, FACR
Type I Endoleak
Aneursymal blood flow through poorly apposed attachment sites

A: Proximal landing zone
B: Distal landing zone
C: Failure of iliac occluder

Occurs in 10% of EVAR procedures
Direct communication with arterial circulation

Best visualized on arterial phase imaging
Contrast in aneurysm sac is apposed to attachment zones

Chimney Grafts are predisposed to gutter leaks; however, many times spontaneously resolve
Very few Type I are self limiting, with most requiring treatment

Balloon Angioplasty
Stent-Graft Extension
Convert bifurcated devices into aorto-uniliac device with fem-fem bypass
Embolization
Type I Endoleak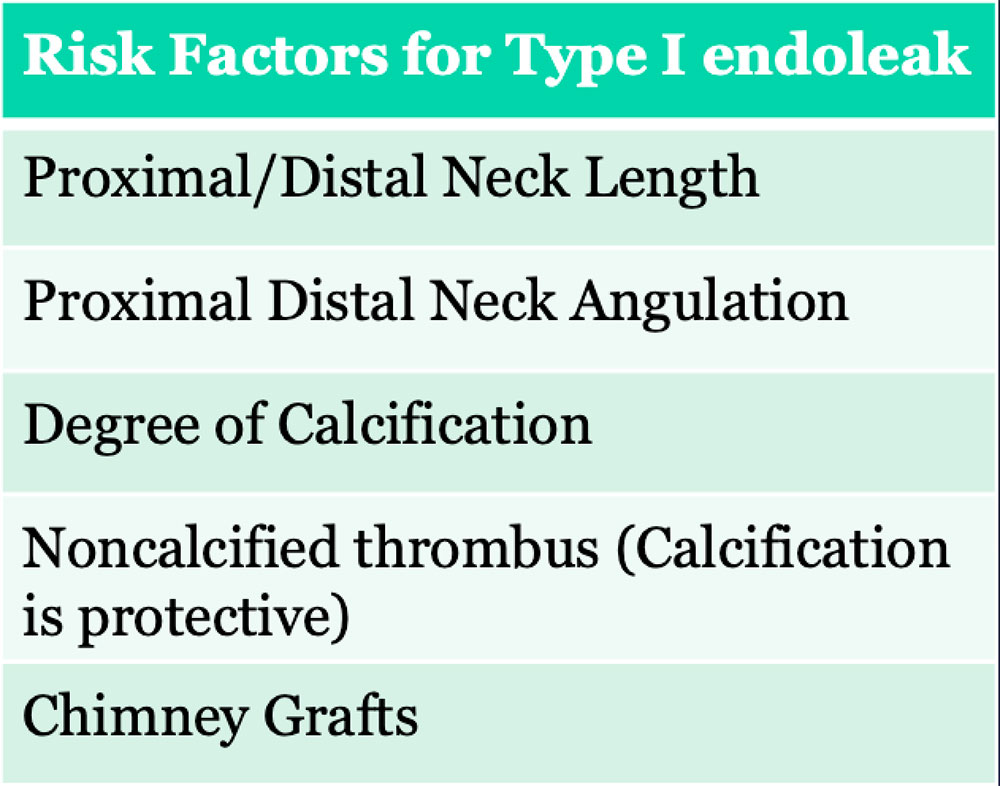 Type I Endoleak
60 year old woman with EVAR presented to ED with pain. Coronal IV CECT images show a new Type I endoleak (red arrows) and stent deformity (yellow arrows) in setting of infection (see slide 24)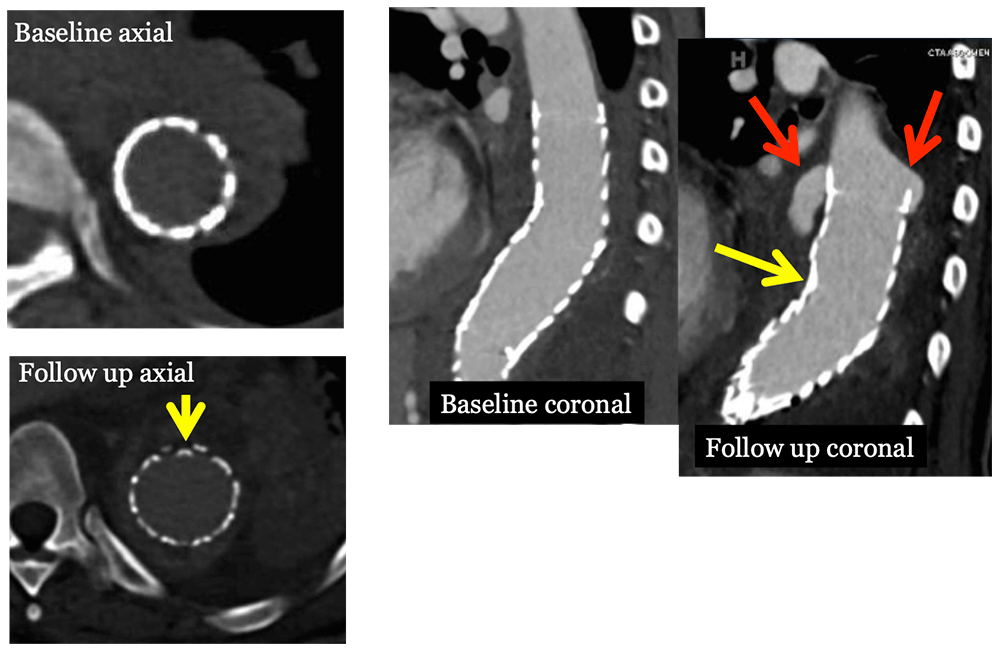 Type II Endoleak
Aneurysmal blood flow retrograde from collateral vasculature

Inferior Mesenteric Artery – enters anteriorly
Lumbar Arteries – enters posterolateraly
Contrast appears peripherally in aneurysm sac

Most common type of endoleak, occurring in 10-25% of cases
Reportedly, 40-80% spontaneously resolve due to low pressure system within one year.
Delayed or persistent appearance after 1 year heralds sac growth.
Treatment remains controversial with most centers treating once sac growth exceeds 5 -10 mm.

Embolization

transarterial and translumbar

Laparoscopic vs Open approach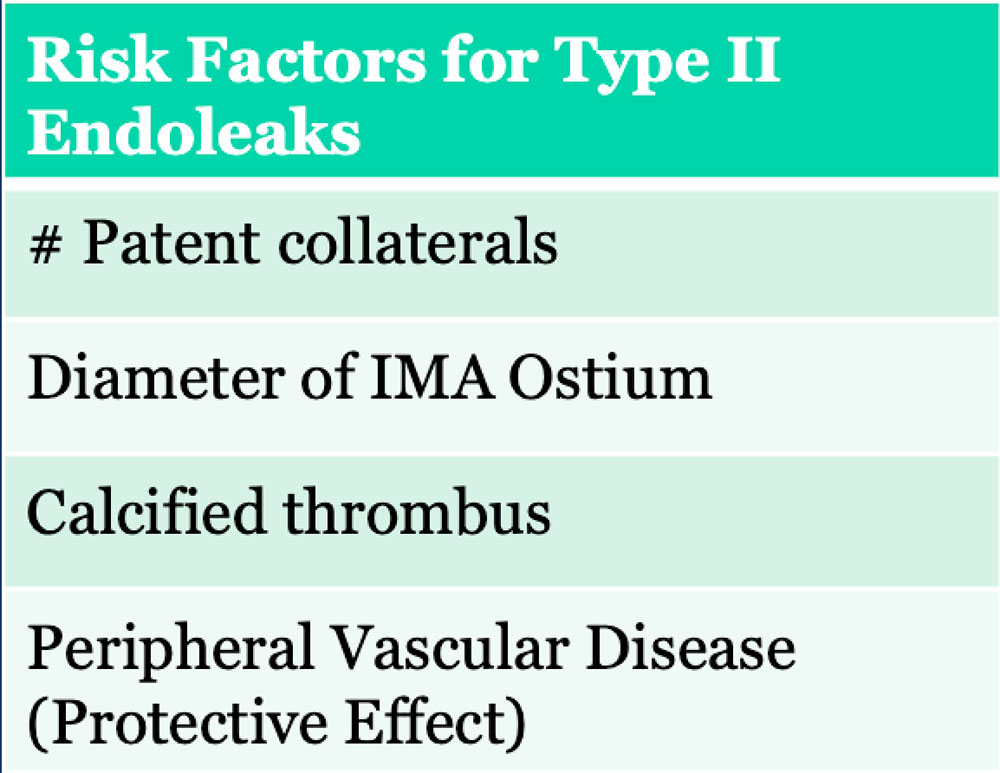 Type II Endoleak
Small type II endoleak (circle) in anterior sac. Search for feeding vessel, which is typically the inferior mesenteric artery (arrow) with anterior endoleaks.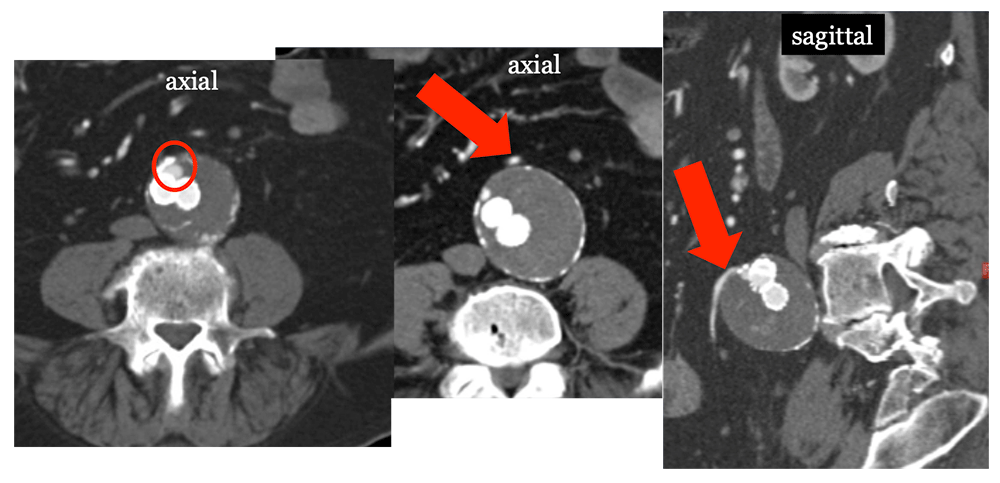 Type III Endoleak
Aneurysmal blood flow through the body of the stent graft

Fabric tear, device fracture, dissociation
Device migration
Device kinking/occlusions may result in leak

High arterial pressures require emergent treatment, similar to type I
Contrast is seen adjacent to the body of the endograft
Subtle erosions of the graft may only be seen with multiplanar reformations
Repair depends on cause of leak

Additional stent/limb extension
Conversion to aortouniliac with bypass
PTA +/- stent
Thrombectomy +/- stent
Open conversion
Type III Endoleak
75 Year old male with history of EVAR presenting with back pain. MDCT shows kinked stent graft (yellow arrow) causing type III endoleak (circle), which resulted in rupture (red arrow).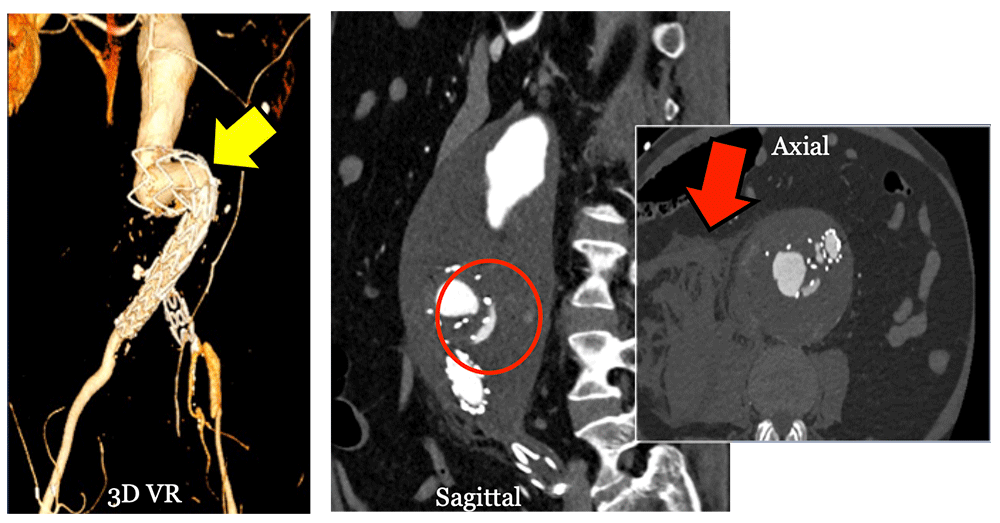 Type IV Endoleak
Aneurysmal flow through stent-graft pores
Identified at implantation as "blush" on immediate post angiogram
Require no intervention
Type V Endoleak
Endotension is referred to as expansion of the aneurysm without presence of endoleak
May be related to occult type I, II, or III endoleak
Pressure transmission from the graft, infection or hygromas
May be present when aneurysm sacs do not shrink in size
Migration and Kinking
Migration leads to
Risk factors for migration

Duration
Degree of oversizing
Neck diameter
Length landing zone

Treatment

Stent graft extension
Open repair

Kinking leads to

Endoleak
Migration
Thrombosis

Risk Factors for kinking

Severe angulation
Migration
Narrow aortic bifurcation
Dissociation of components
77 year old male s/p EVAR for AAA. Routine IV CECT at 1 year follow up revealed stent graft dissociation (yellow arrows), aneurysm sac increase (circle) to 10 cm and large type III leak (E) in the absence of symptoms, probably sequela of recent fall.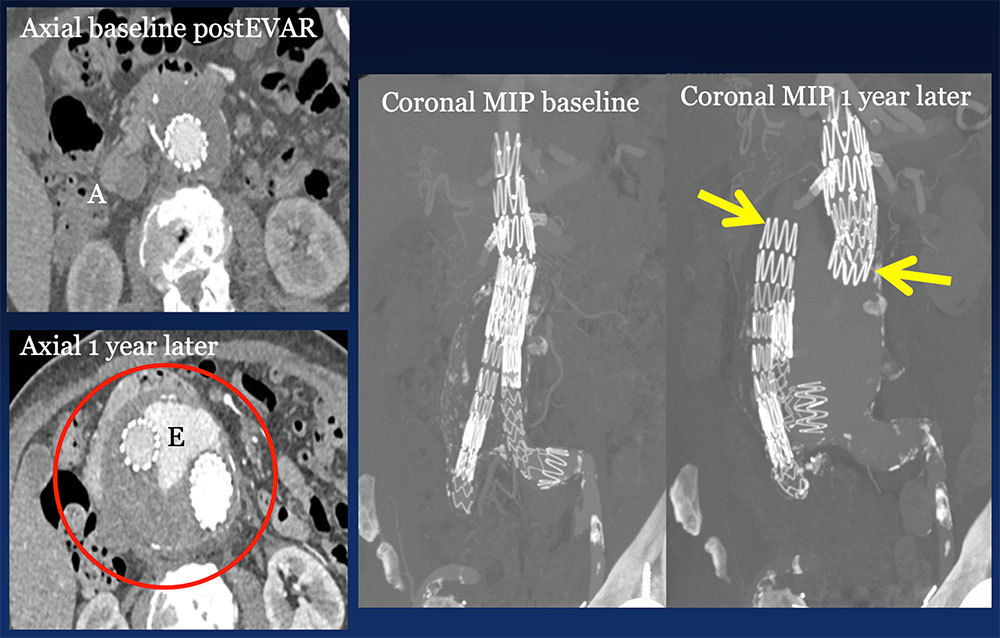 Thrombosis, Occlusion and Stenosis
Risk Factors

Migration, Kinking
Oversizing, Infolding/Twisting of graft material
Tortuous, diminutive iliac arteries

Typical treatment for stenosis and occlusion includes

Aortouniliac devices with fem-fem bypass
Thrombectomy or bypass for thrombosis
Ballon angioplasty +/- stenting for stenosis
Infection
Occurs in less than 1%, however associated with high mortality.
Sources include procedure contamination (perioperative) vs disseminated infection (late)

Kidney stone, appendicitis induced peritonitis, inflammatory aneurysm, pneumonia

Important to identify inflammation adjacent to the stent graft

Peri-graft fluid collections
Abnormal enhancement
Gas bubbles

Aneurysm expansion may lead to erosion into bowel, fistulization and infection
Requires surgical repair
Infected EVAR and Type I Endoleak
60 year old woman with EVAR presented to ED with pain (same patient as slide 14). Coronal IV CECT images show a new Type I endoleak (red arrows) in the setting of lung infection. Note infected left lower lobe (L), left pleural effusion (P) and small gas bubbles (yellow arrows).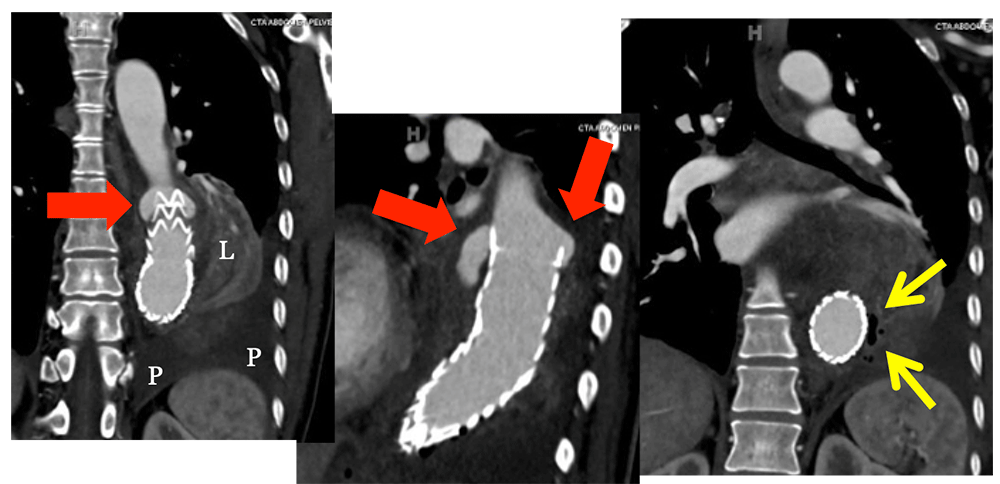 Aortoenteric Fistula
An endovascular stent does not protect against aneurysm sac leak or rupture if sac continues to expand in presence of endoleak.
In addition to frank rupture, the aneurysm sac may fistulize to adjacent bowel, commonly the duodenum as it drapes over the sac.
Often the patient experiences a herald bleed that brings them to the emergency department, which is intermittent so that active bleeding from the aneurysm sac is not seen at the time of imaging.
While contrast extravasation from the aorta to the bowel is not often NOT visualized in these cases, it provides definitive diagnosis when identified and mandates immediate intervention.
Adherence of the thickened colon to the anterior sac wall and stranding are clues to the diagnosis, strengthened by the presence of gas in the aneurysm sac.
Aortoduodenal Fistula
Patient with fractured stent (yellow arrow) status post replacement stent. Two years later, the patient presented to ED with melena due to aortoduodenal fistula from the aneurysm sac (red arrows).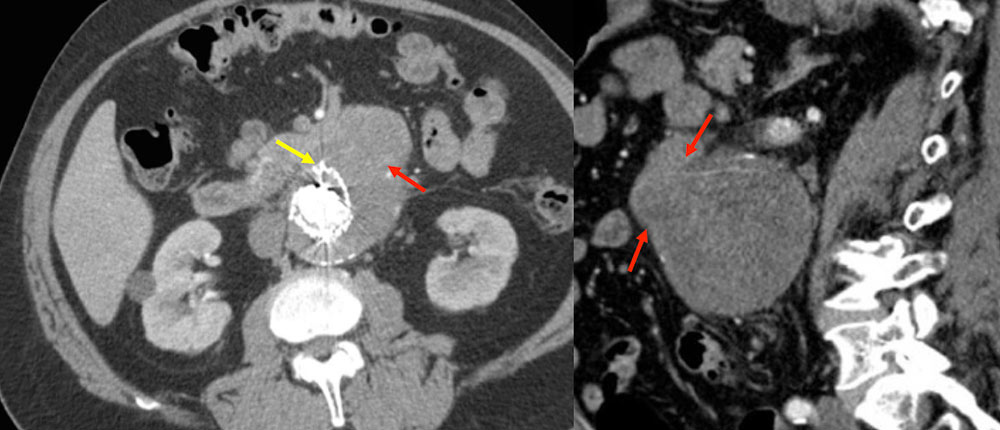 Aortoduodenal Fistula
87 year old female with CAD, AAA s/p endoluminal repair and revision who presented with progressive weakness. She was found to be severely anemic with baseline hemoglobin of 6 due to fistula between aneurysm sac and adjacent duodenum. In this case, gas bubbles (red arrows) are identified in the aneurysm sac, confirming fistulous connection (yellow arrows) to the adjacent duodenum. Heterogeneity within the sac reflects hematoma due to sac rupture.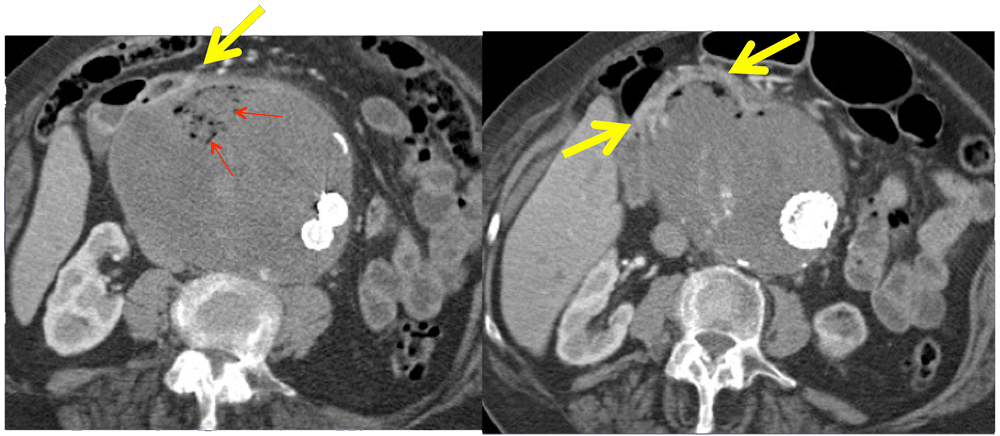 Aortocolonic Fistula
78 year old male s/p aortoiliac EVAR with chronic occlusion of left limb and chronic endoleak who presented with LGIB. CECT revealed aortocolonic fistula (arrows) from transverse colon to anterior sac.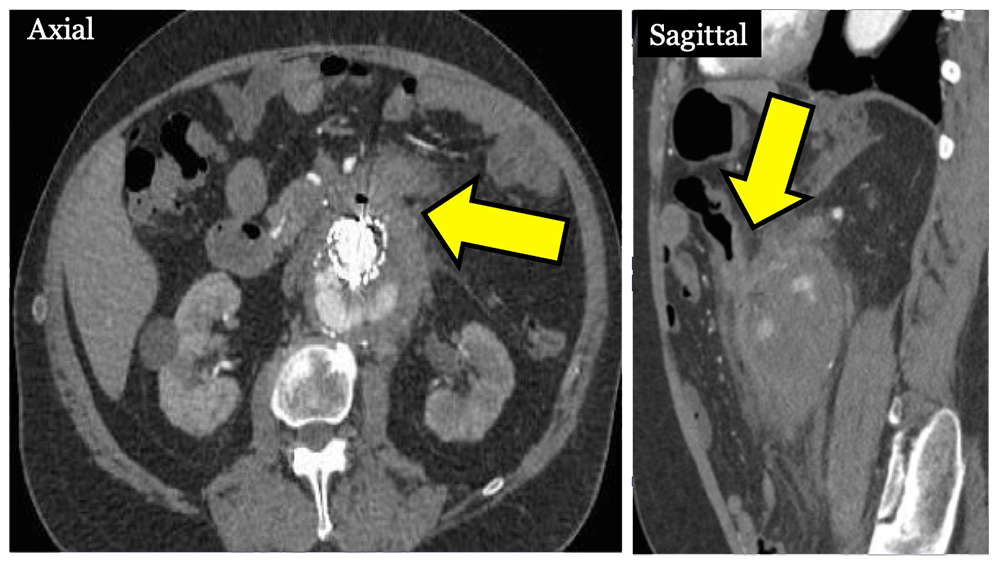 Retrograde Aortic Dissection
Rare catastrophic complications include retrograde aortic dissections
Sanford type A dissection (retrograde ascending aorta) after thoracic EVAR

Incidence ranges from 2-6%
Cause is often related to the procedure itself
Associated with the use of proximal bare spring stent grafts, previous type B dissection
Can be asymptomatic in up to 25%, underscoring importance of surveillance

Sanford Type B dissection after repair of AAA

Very rare, typically with fatal outcomes

Pre-existing atherosclerotic disease including ulcerated plaques or ectasia increase risk
Other etiologies likely related to difficulties in stent placement

Intimal calcifications
Angulated necks
Oversizing stents
Unstable plaques
TEVAR with Retrograde Dissection
82 year old female status post aortic arch and descending thoracic EVAR who presented with cardiac arrest due to ruptured retrograde Type A dissection (circle). Note extensive mediastinal hematoma (H) markedly narrowing the pulmonary arteries. This is a potential complication of a stent positioned in the aortic arch.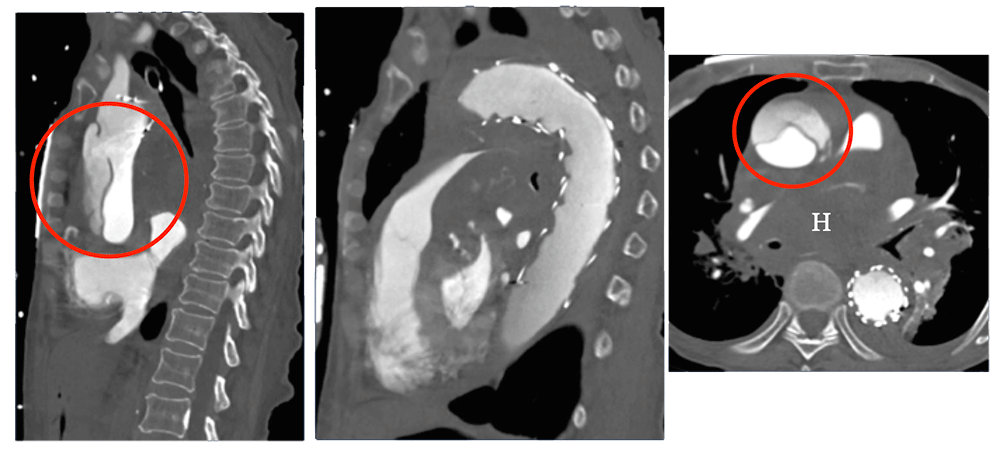 Rupture
Delayed rupture is rare, ranging from 0.5% to 2% per year.
Refractory or occult Type II endoleaks and Type V endoleaks increase sac pressure leading to rupture
May also occur without increasing aneurysm size

Likely due to sudden pressurization from type I/III endoleak

Imaging findings are important for treatment planning
Ruptured Aneurysm Sac
Post AAA EVAR with endoleak seen best on venous phase (large arrow), which led to aneurysm sac rupture (small arrows).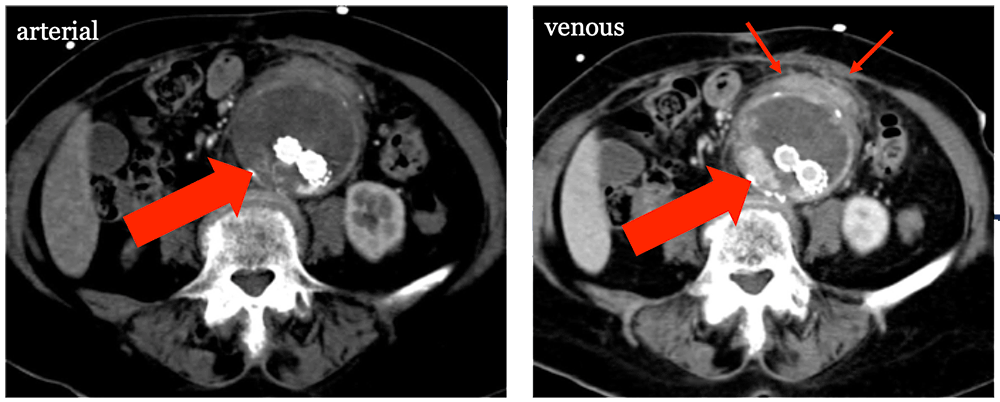 References
Endovascular versus Open Repair of Abdominal Aortic Aneurysm. N Engl J Med 2010 05/20; 2016/08;362(20):1863-1871.
Arko III FR, Murphy EH, Boyes C, Nussbaum T, Lalka SG, Holleman J, et al. Current Status of Endovascular Aneurysm Repair: 20 Years of Learning. Semin Vasc Surg 2012 9;25(3):131-135.
Becquemin J, Allaire E, Desgranges P, Kobeiter H. Delayed Complications Following EVAR. Techniques in Vascular and Interventional Radiology 2005 3;8(1):30-40.
Blankensteijn JD, de Jong SECA, Prinssen M, van dH, Buth J, van Sterkenburg SMM, et al. Two-Year Outcomes after Conventional or Endovascular Repair of Abdominal Aortic Aneurysms. N Engl J Med 2005 06/09; 2016/08;352(23):2398-2405.
Brown A, Saggu GK, Bown MJ, Sayers RD, Sidloff DA. Type II endoleaks: challenges and solutions. Vascular Health and Risk Management 2016 03/02;12:53-63.
Bryce Y, Rogoff P, Romanelli D, Reichle R. Endovascular Repair of Abdominal Aortic Aneurysms: Vascular Anatomy, Device Selection, Procedure, and Procedure-specific Complications. Radiographics 2015 03/01; 2016/08;35(2):593-615.
References
Catanescu I, Long G, Bove P, Khoury M, Brown O, Rimar S, et al. Rupture of Abdominal Aortic Aneurysm in Patients with and without Antecedent Endovascular Repair. Ann Vasc Surg .
Conrad MF, Adams AB, Guest JM, Paruchuri VB,David C., LaMuraglia GM, Cambria RP. Secondary Intervention After Endovascular Abdominal Aortic Aneurysm Repair. Ann Surg 2009 September;250(3):383-389.
De Bruin JL, Baas AF, Buth J, Prinssen M, Verhoeven ELG, Cuypers PWM, et al. Long-Term Outcome of Open or Endovascular Repair of Abdominal Aortic Aneurysm. N Engl J Med 2010 05/20; 2016/08;362(20):1881-1889.
Eggebrecht H, Thompson M, Rousseau H, Czerny M, Lönn L, Mehta RH, et al. Retrograde Ascending Aortic Dissection During or After Thoracic Aortic Stent Graft Placement. Circulation 2009 09/14;120(11):S276.
Khanbhai M, Ghosh J, Ashleigh R, Baguneid M. Type B aortic dissection after standard endovascular repair of abdominal aortic aneurysm. BMJ Case Reports 2013 May 09;2013.
References
Lal BK, Zhou W, Li Z, Kyriakides T, Matsumura J, Lederle FA, et al. Predictors and outcomes of endoleaks in the Veterans Affairs Open Versus Endovascular Repair (OVER) Trial of Abdominal Aortic Aneurysms. Journal of Vascular Surgery 2015 12;62(6):1394-1404.
Maldonado TS, Rockman CB, Riles E, Douglas D, Adelman MA, Jacobowitz GR, et al. Ischemic complications after endovascular abdominal aortic aneurysm repair. Journal of Vascular Surgery 2004 10;40(4):703-710.
Mehta M, Sternbach Y, Taggert JB, Kreienberg PB, Roddy SP, Paty PSK, et al. Long-term outcomes of secondary procedures after endovascular aneurysm repair. Journal of Vascular Surgery 2010 12;52(6):1442-1449.
Mertens J, Houthoofd S, Daenens K, Fourneau I, Maleux G, Lerut P, et al. Long-term results after endovascular abdominal aortic aneurysm repair using the Cook Zenith endograft. Journal of Vascular Surgery 2011 7;54(1):48-57.e2.
Murphy EH, Szeto WY, Herdrich BJ, Jackson BM, Wang GJ, Bavaria JE, et al. The management of endograft infections following endovascular thoracic and abdominal aneurysm repair. Journal of Vascular Surgery 2013 11;58(5):1179-1185.
References
Schermerhorn ML, Buck DB, O'Malley AJ, Curran T, McCallum JC, Darling J, et al. Long-Term Outcomes of Abdominal Aortic Aneurysm in the Medicare Population. N Engl J Med 2015 07/23; 2016/08;373(4):328-338.
Sirignano P, Pranteda C, Capoccia L, Menna D, Mansour W, Speziale F. Retrograde Type B Aortic Dissection as a Complication of Standard Endovascular Aortic Repair. Ann Vasc Surg 2015 1;29(1):127.e5-127.e9.
Stavropoulos SW, Charagundla SR. Imaging Techniques for Detection and Management of Endoleaks after Endovascular Aortic Aneurysm Repair. Radiology 2007 06/01; 2016/08;243(3):641-655.
Vandy F, Upchurch GR. Endovascular Aneurysm Repair: Current Status. Circulation: Cardiovascular Interventions 2012 December 01;5(6):871-882.
References
Wadgaonkar AD, Black JH, Weihe EK, Zimmerman SL, Fishman EK, Johnson PT. Abdominal Aortic Aneurysms Revisited: MDCT with Multiplanar Reconstructions for Identifying Indicators of Instability in the Pre- and Postoperative Patient. Radiographics 2015 01/01; 2016/08;35(1):254-268.
Walker TG, Kalva SP, Yeddula K, Wicky S, Kundu S, Drescher P, et al. Clinical Practice Guidelines for Endovascular Abdominal Aortic Aneurysm Repair: Written by the Standards of Practice Committee for the Society of Interventional Radiology and Endorsed by the Cardiovascular and Interventional Radiological Society of Europe and the Canadian Interventional Radiology Association. Journal of Vascular and Interventional Radiology 2010 11;21(11):1632-1655.