---
Small Bowel Gastrointestinal Stromal Tumors: Imaging and Clinical Correlates
Small Bowel Gastrointestinal Stromal Tumors: Imaging and Clinical Correlates
Franco Verde MD
Disclosures
FV: None
HR: Royalties, Myriad Genetics, Inc
EF: Research support, Siemens AG Advisory Board, Siemens AG Research support, GE Company Advisory Board, HipGraphics, Inc co-founder
Outline of Presentation
Introduction
Pathology

Terminology
Assessment
Staging

Imaging Appearance

CT protocol
Location
Size
Enhancement
Additional Features
Metastatic Disease
Additional cases per site

Treatment
Prognosis
Introduction:Epidemiology
Primary small bowel (SB) tumors are rare

9410 new cases, 1260 deaths (0.2% of all cancer deaths)

Gastrointestinal stromal tumors (GISTs) comprise 8-15% of all SB tumors
Small bowel GISTs (SB-GISTs) are frequently

Older (mean age 60.6 years)
Caucasian (79%)
Male (55%)
Introduction:Presentation
Patients may present with

Abdominal pain
Bleeding
Obstruction
Palpable abdominal mass

SB-GISTs may also be incidental

Frequently when lesion is less than 2 cm
When resecting bowel for a different reason (i.e. Whipple procedure for pancreatic adenocarcinoma with tiny incidental duodenal GIST)
Histopathology:History
SB-GISTs were previously described as GI leiomyomas, leiomyoblastomas, leiomyosarcomas or neurofibromas or schwannomas
Mazar and Clark first used the term gastric stromal tumor in 1983 to describe non-epithelial gastric masses that lacked features of schwann cells or smooth muscle
Pathology:Terminology
Originate from common precursor of interstitial cells of Cajal

Named after 19th century Spanish neuroanatomist
Intermediates between GI autonomic nervous system and smooth muscle cells
Found throughout the GI tract around the myenteric plexus in the muscularis propria
Kit and Kit-ligand (stem cell factor) positive and dependent cells

Kit or Kit-ligand deficient mice lack Cajal cells and have intestinal dysmotility
Pathology:Gross
5 main gross pathologic patterns of SB-GISTs

sessile intraluminal small polyps
tumors with a small intraluminal and a larger extra-luminal component
pedunculated extra-luminal mass
extra-luminal mass only
large extra-luminal masses with cavitation, hemorrhage, necrosis and luminal communication.

Usually pink-tan and occasionally gray-white or yellowish
Pathology:Immunohistology
GISTs are predominately related to gain-of-function mutations of KIT gene

Which encodes for tyrosine kinase transmembrane receptor
85% of all GISTs have some variable mutation of the KIT gene: typically exons 9, 11, 13, or 17
Each exon codes for a different component of the tyrosine receptor
Receptor responsible for initiating a signaling cascade involved in cellular survival, growth, and differentiation

Up to 10% of GISTs without detectable KIT gene mutation will have a PDGRFA gene, another tyrosine kinase cell surface receptor.
Rarely, no KIT or PDGRFA gene mutation is found. Mutations have been found in other downstream genes (e.g. BRAF, NF1, or RAS)
Pathology:Assessment
Modern pathologic assessment of GISTs include the following parameters
Location
Size
Subtype
# of mitoses per 50 high powered fields (HPFs)
Presence of necrosis
Presence of lymphatic and venous invasion
Surgical margin assessment
Node assessment
Presence of metastatic disease
Immunostains
Preoperative treatment
Pathology:Assessment
Location

Gastric, small bowel, etc.
Small bowel GISTs have been shown to have a higher rate of progressive disease compared to gastric origin
Duodenal GISTs are more common than jejunal or ileal GISTs

Size

Main determinant in prognosis and TNM classification
Categorized into

T1: < 2 cm
T2: > 2 cm and < 5 cm
T3: > 5 cm and < 10 cm
T4: > 10 cm
Pathology:Assessment
Subtype

Spindle cell morphology is most common
Small percentage epithelioid
Rarely mixed pattern

Mitotic Rate

Next most important determinant of risk of progressive disease
G1 or low-grade: less than 5 mitoses per 50 HPFs
G2 or high-grade: more than 5 mitoses per 50 HPFs

Necrosis

Either coagulative or liquefactive
Presence of necrosis is not a determinant of progression

Lymphatic or venous invasion

Described but not used in staging
Pathology:Assessment
Nodal disease

Rarely does GIST metastasize to regional nodes

Metastatic disease

Found as peritoneal implants or hepatic disease

Immunostains

Positive and routinely tested for evaluating a small bowel tumor:

C-kit
DOG-1 (cell-surface novel marker, not usually found in other soft tissue tumors)
PDGFRA (tested when C-kit is negative)

Negative and routinely tested for:

Desmin and SMA – smooth muscle markers found in leiomyomas

S100, HMB45, cytokeratin – found in tumors of epidermal origin (e.g. schwannoma or melanoma)

Preoperative treatment: if a tyrosine receptor blocker was used (i.e. imatinib mesylate)
Pathology:AJCC Staging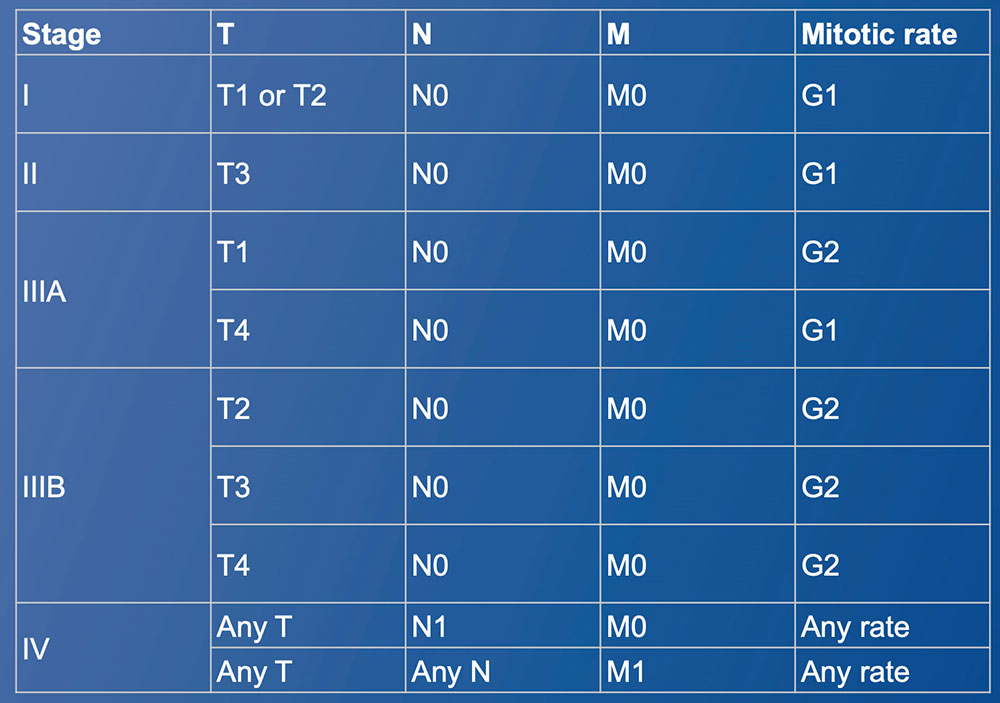 Imaging:Protocol Optimization
Recommended 64 MDCT protocol
Arterial (bolus triggered) and venous phases (60 second delay) at 4-5 mL/s
120 kVp
250 mAs
0.8 pitch
64 x 0.6 mm collimation
0.75 mm axial and 3 mm axial, sagittal, and coronal reconstructions
1000 mL water PO
Imaging:Location
Typically appear as extra-luminal masses with a small intra-luminal component (tip-of-iceberg)
Duodenum more common than jejunum or ileum
Example of a low grade, 1.9 cm, spindle type GIST arising from the duodenum with tiny intraluminal component (arrow)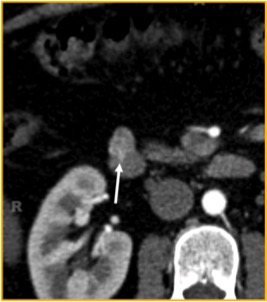 Imaging:Location
Duodenal GISTs can mimic neuroendocrine tumors given seemingly completely extraluminal appearance
Example of a 3.6 cm a low grade, spindle type, GIST arising from the duodenum.

Mass was resected with pre-operative diagnosis of neuroendocrine tumor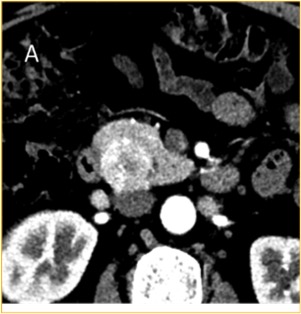 Imaging:Location
Some very large SB GISTs may have no apparent source and seemingly arise from the mesentery and mimic other sarcomas
Example of 33 cm high grade jejunal GIST with 50% necrosis with extensive local mass effect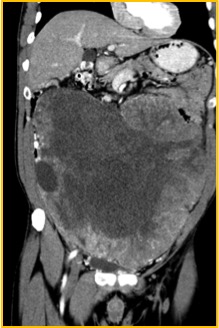 Imaging:Size
SB GISTs demonstrate a spectrum of sizes typically 5 to 10 cm with approximate similar percentages of less than 5 cm or greater than 10 cm
Example of a 5 cm low grade jejunal GIST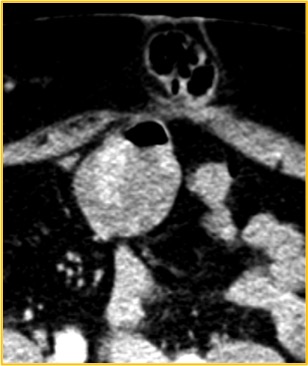 Imaging:Enhancement
Noncontrast demonstrates homogenous soft tissue density (lower arrow)
Focal calcifications can be seen (upper arrow)
Example of a 6.5 cm high grade, necrotic, GIST arising from distal jejunum.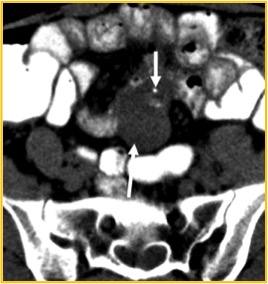 Imaging:Enhancement
Enhancement pattern is variable depending on size, phase of contrast, and presence of necrosis or luminal connection
Example of a 2.5 cm duodenal GIST with heterogeneous enhancement on arterial (A) phase becoming homogenous on venous (B) phase. Note degree of enhancement is similar to renal cortex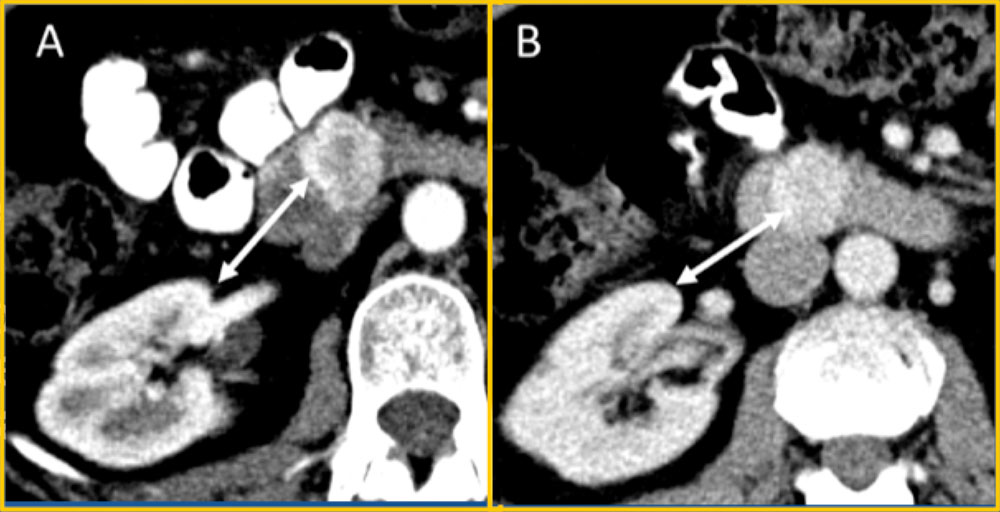 Imaging:Enhancement
If the GIST is large, necrosis will likely be present and appear and central hypoattenuation and a rim of enhancing viable tissue.

Example of a high grade duodenal GIST with extensive necrosis.

Central heterogeneous enhancement in smaller GISTs (lower image) does not necessarily indicate necrosis.

Example of a low grade duodenal GIST without necrosis.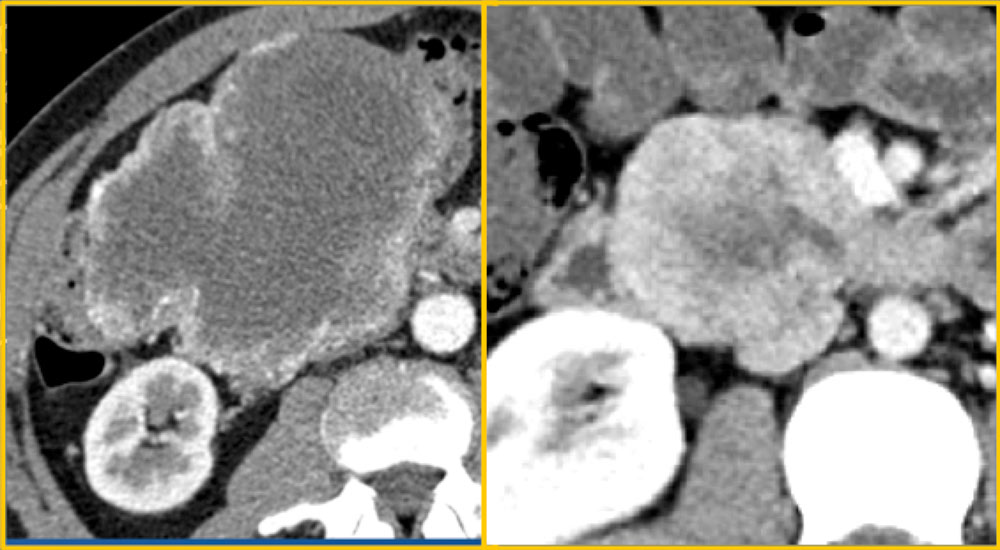 Imaging: Additional Features
Intratumoral air and fluid levels or debris can be seen when there is luminal communication
Example of low grade GIST arising from the duodenum with extensive necrosis.

Note luminal communication demonstrated by intratumoral air (arrow)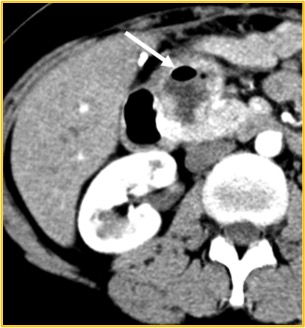 Imaging: Metastatic Disease
Metastatic disease is usually seen as mesenteric or liver lesions
Mesenteric nodules are usually small, round and may enhance.
Liver metastases are hypovascular, round, and well demarcated.

ImagingAdditional Cases - Duodenum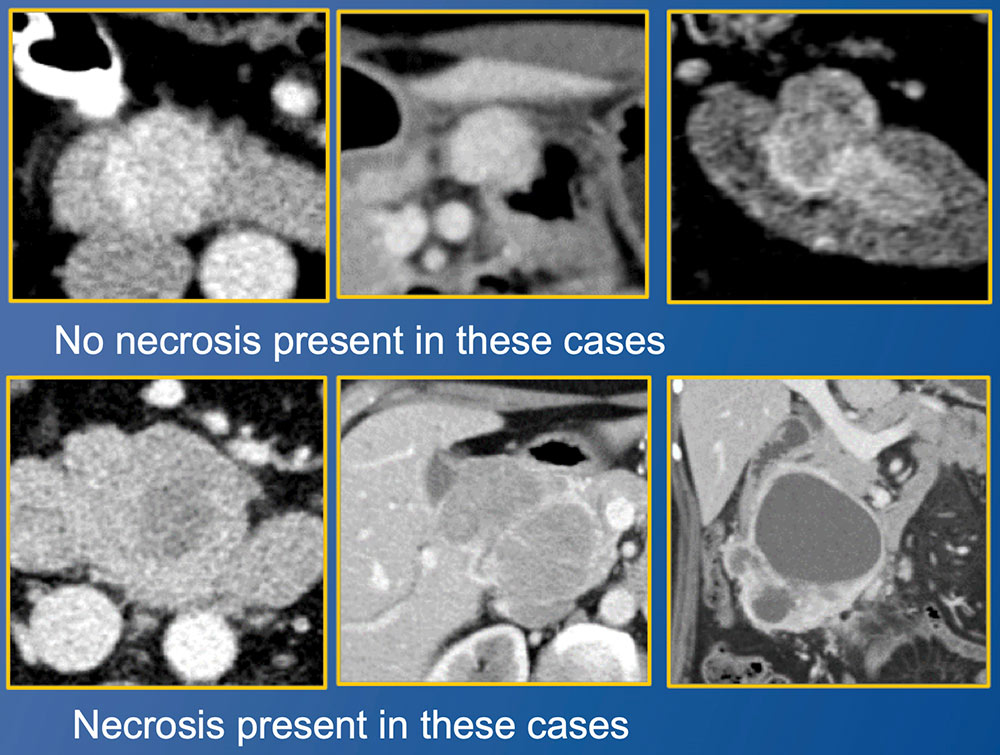 ImagingAdditional Cases - Jejunum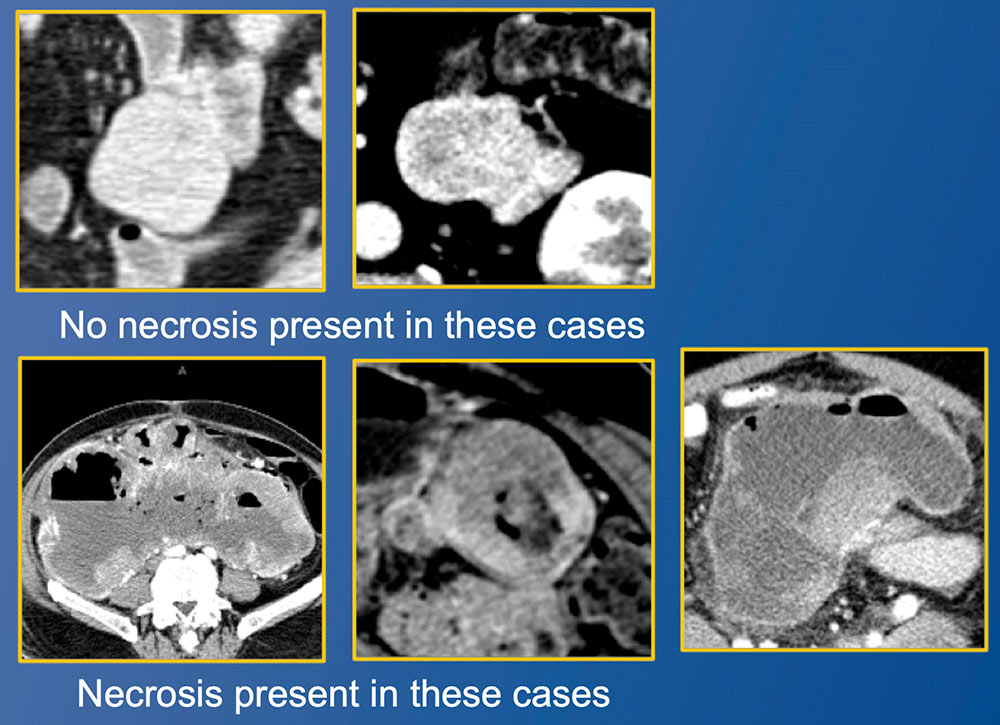 Imaging:Additional Cases - Ileum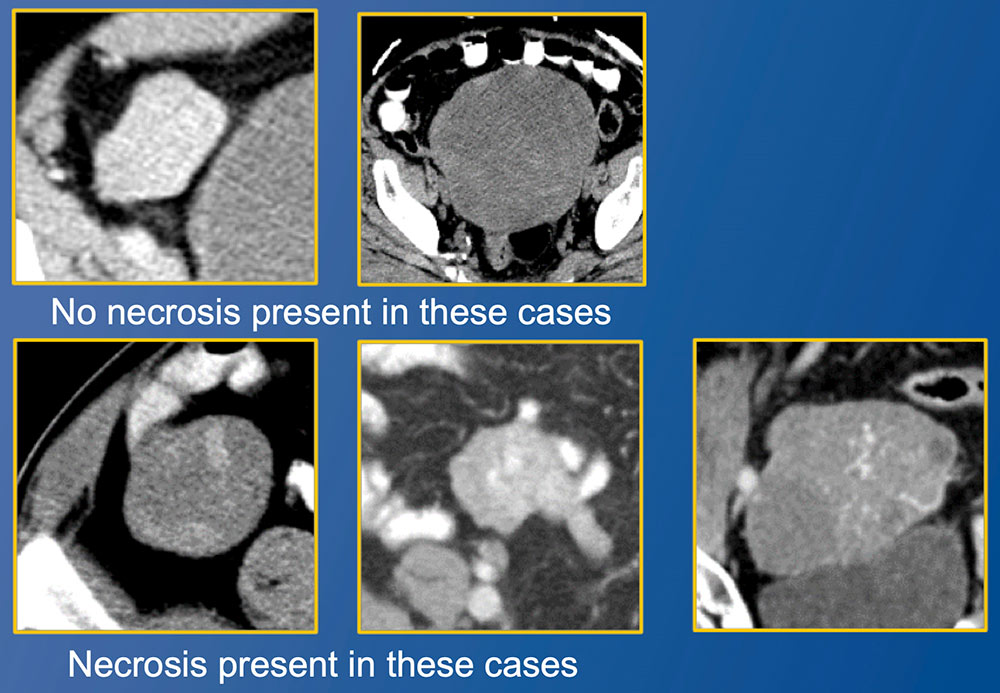 Treatment
Surgical resection is mainstay therapy for isolated small tumors without evidence of metastatic disease.
Laparoscopic resection may be attempted for small tumors with open procedures reserved for larger tumors.
Imatinib mesylate, a tyrosine kinase inhibitor, is first line therapy for patients who are poor surgical candidates, or show evidence of recurrence or metastatic disease.

Can also be used as neoadjuvant therapy to preoperatively shrink large tumors
Imaging Surveillance
Surveillance after surgery includes CT scanning with contrast every 3 to 6 months.
Low grade small tumor may have scans every 6 to 12 months.
Patients receiving imatinib mesylate therapy may have scans every 3 months.
Dual phase imaging is recommended as arterial phase may detect new enhancing components in stable disease that may wash out during venous phase and be overlooked.
Prognosis:Size and Mitotic Rate Dependent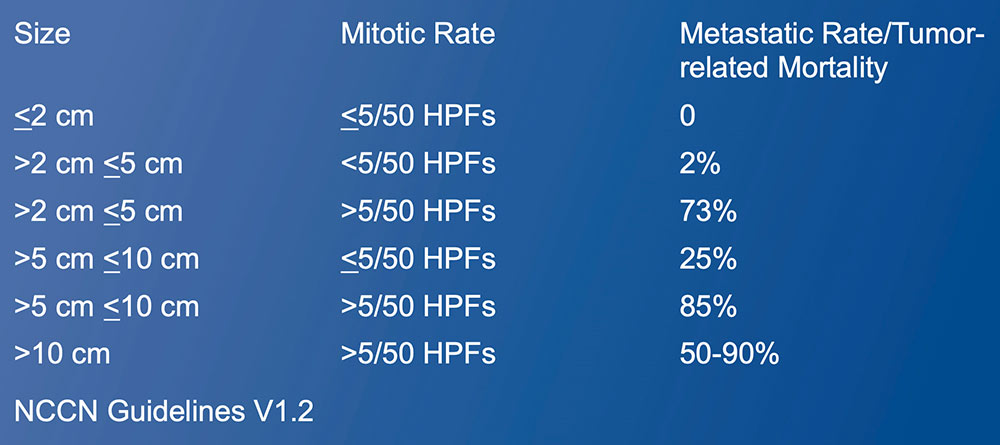 References
Anonymous SEER Cancer Statistics Factsheets: Small Intestine Cancer. National Cancer Institute. Bethesda, MD.
. http://seer.cancer.gov/statfacts/html/smint.html. 08/11. 2015.
Bilimoria KY, Bentrem DJ, Wayne JD, Ko CY, Bennett CL, Talamonti MS. Small bowel cancer in the United States: changes in epidemiology, treatment, and survival over the last 20 years. Ann Surg 2009;249(1):63-71.
Miettinen M, Lasota J. Gastrointestinal stromal tumors: pathology and prognosis at different sites. Semin Diagn Pathol 2006;23(2):70-83.
Kukar M, Kapil A, Papenfuss W, Groman A, Grobmyer SR, Hochwald SN. Gastrointestinal stromal tumors (GISTs) at uncommon locations: a large population based analysis. J Surg Oncol 2015;111(6):696-701.
Miettinen M, Lasota J. Gastrointestinal stromal tumors--definition, clinical, histological, immunohistochemical, and molecular genetic features and differential diagnosis. Virchows Arch 2001;438(1):1-12.
Crosby JA, Catton CN, Davis A, et al. Malignant gastrointestinal stromal tumors of the small intestine: a review of 50 cases from a prospective database. Ann Surg Oncol 2001;8(1):50-59.
Pidhorecky I, Cheney RT, Kraybill WG, Gibbs JF. Gastrointestinal stromal tumors: current diagnosis, biologic behavior, and management. Ann Surg Oncol 2000;7(9):705-712.
DeMatteo RP, Lewis JJ, Leung D, Mudan SS, Woodruff JM, Brennan MF. Two hundred gastrointestinal stromal tumors: recurrence patterns and prognostic factors for survival. Ann Surg 2000;231(1):51-58.
Grover S, Ashley SW, Raut CP. Small intestine gastrointestinal stromal tumors. Curr Opin Gastroenterol 2012;28(2):113-123.
Kimura H, Yoshida T, Kinoshita S, Takahashi I. Pedunculated giant gastrointestinal stromal tumor of the stomach showing extragastric growth: report of a case. Surg Today 2004;34(2):159-162.
Miettinen M, Fetsch JF, Sobin LH, Lasota J. Gastrointestinal stromal tumors in patients with neurofibromatosis 1: a clinicopathologic and molecular genetic study of 45 cases. Am J Surg Pathol 2006;30(1):90-96.
Andersson J, Sihto H, Meis-Kindblom JM, Joensuu H, Nupponen N, Kindblom LG. NF1-associated gastrointestinal stromal tumors have unique clinical, phenotypic, and genotypic characteristics. Am J Surg Pathol 2005;29(9):1170-1176.
Ozcinar B, Aksakal N, Agcaoglu O, et al. Multiple gastrointestinal stromal tumors and pheochromocytoma in a patient with von Recklinghausen's disease. Int J Surg Case Rep 2013;4(2):216-218.
Miettinen M, Makhlouf H, Sobin LH, Lasota J. Gastrointestinal stromal tumors of the jejunum and ileum: a clinicopathologic, immunohistochemical, and molecular genetic study of 906 cases before imatinib with long-term follow-up. Am J Surg Pathol 2006;30(4):477-489.
Hirota S, Isozaki K, Moriyama Y, et al. Gain-of-function mutations of c-kit in human gastrointestinal stromal tumors. Science 1998;279(5350):577-580.
Joensuu H, Hohenberger P, Corless CL. Gastrointestinal stromal tumour. Lancet 2013;382(9896):973-983.
Lamba G, Ambrale S, Lee B, Gupta R, Rafiyath SM, Liu D. Recent advances and novel agents for gastrointestinal stromal tumor (GIST). J Hematol Oncol 2012;5:21-8722-5-21.
Edling CE, Hallberg B. c-Kit--a hematopoietic cell essential receptor tyrosine kinase. Int J Biochem Cell Biol 2007;39(11):1995-1998.
Miettinen M, Wang ZF, Lasota J. DOG1 antibody in the differential diagnosis of gastrointestinal stromal tumors: a study of 1840 cases. Am J Surg Pathol 2009;33(9):1401-1408.
Miettinen M, Virolainen M, Maarit-Sarlomo-Rikala. Gastrointestinal stromal tumors--value of CD34 antigen in their identification and separation from true leiomyomas and schwannomas. Am J Surg Pathol 1995;19(2):207-216.
Wu TJ, Lee LY, Yeh CN, et al. Surgical treatment and prognostic analysis for gastrointestinal stromal tumors (GISTs) of the small intestine: before the era of imatinib mesylate. BMC Gastroenterol 2006;6:29.
Nishida T, Blay JY, Hirota S, Kitagawa Y, Kang YK. The standard diagnosis, treatment, and follow-up of gastrointestinal stromal tumors based on guidelines. Gastric Cancer 2015
Fletcher CD, Berman JJ, Corless C, et al. Diagnosis of gastrointestinal stromal tumors: A consensus approach. Hum Pathol 2002;33(5):459-465.
Jang SH, Kwon JE, Kim JH, et al. Prediction of Tumor Recurrence in Patients with Non-Gastric Gastrointestinal Stromal Tumors Following Resection according to the Modified National Institutes of Health Criteria. Intest Res 2014;12(3):229-235.
Acknowldgements
Franco Verde MD
Ralph Hruban MD
Elliot K. Fishman MD