---
MDCT Evaluation of Early and Late Post-operative Complications of Roux en y Gastric Bypass Surgery and Vertical Sleeve Gastrectomy
MDCT Evaluation of Early and Late Post-operative Complications of Roux en y Gastric Bypass Surgery and Vertical Sleeve Gastrectomy
Christopher Jones, MD
Pamela T. Johnson, MD
Emily Meltzer-Jones, DMD
Elliot K. Fishman, MD

The Russell H. Morgan Department of Radiology and Radiological Science
The Johns Hopkins Medical Institutions
Baltimore, Maryland
Disclosures
Disclosure(s) I have/had a financial interest, arrangement, or affiliation with a commercial organization that may have a direct or indirect interest in the subject matter of my presentation, as described below.Disclosures:
Christopher Jones: No Disclosures
Pamela Johnson: No Disclosures
Elliot Fishman: Research support provided by Siemens AG, General Electric Company
Goals/Objectives
Review Roux en Y Gastric bypass (RYGB) and Vertical Sleeve Gastrectomy(VSG) procedures and the expected post-operative anatomy
Discuss optimization of MDCT protocol to evaluate for post-operative complications
Using examples, describe MDCT findings of common and uncommon complications in early and late post-operative phases
Target audience

Practicing radiologists and residents in training
Surgeries
Roux en Y Gastric Bypass (RYGB)

Most commonly performed weight loss surgery
Restrictive and malabsorptive components

Creation of gastric pouch → Restrictive
Intestinal bypass → Malabsorptive

Vertical Sleeve Gastrectomy (VSG)

Primarily restrictive weight loss

Both procedures have benefit of favorable hormonal changes in stomach, such as decreased ghrelin production, which contribute to weight loss
CT Protocol
Venous phase acquisition (60 seconds)

100-120 cc non-ionic IV contrast
addition of arterial phase useful if GI hemorrhage suspected

Recent post op or acute abdominal pain

30 cc diluted (15:1 dilution) water soluble contrast ingested 15-20 mins prior to scan.

Allows for evaluation of G-J, roux limb and J-J, common sites of post-operative complication

Neutral (water) contrast or no PO if hemorrhage suspected

Scans performed for other indications can be obtained with routine oral contrast technique
Image review in coronal/sagittal planes, in addition to axial plane, increases sensitivity for subtle complications.
RYGB Procedure
Creation of Gastric Pouch (P)
Divide jejunum 25-50cm distal to ligament of Treitz

Excluded stomach to this point forms biliopancreatic limb (BP)

From division, 75-100 cm measured distally to form roux limb (R).
Jejunojejunostomy (J-J) formed by side –to-side anastomosis
Roux limb pulled up to form gastrojejunostomy (G-J)
Common channel distal to J-J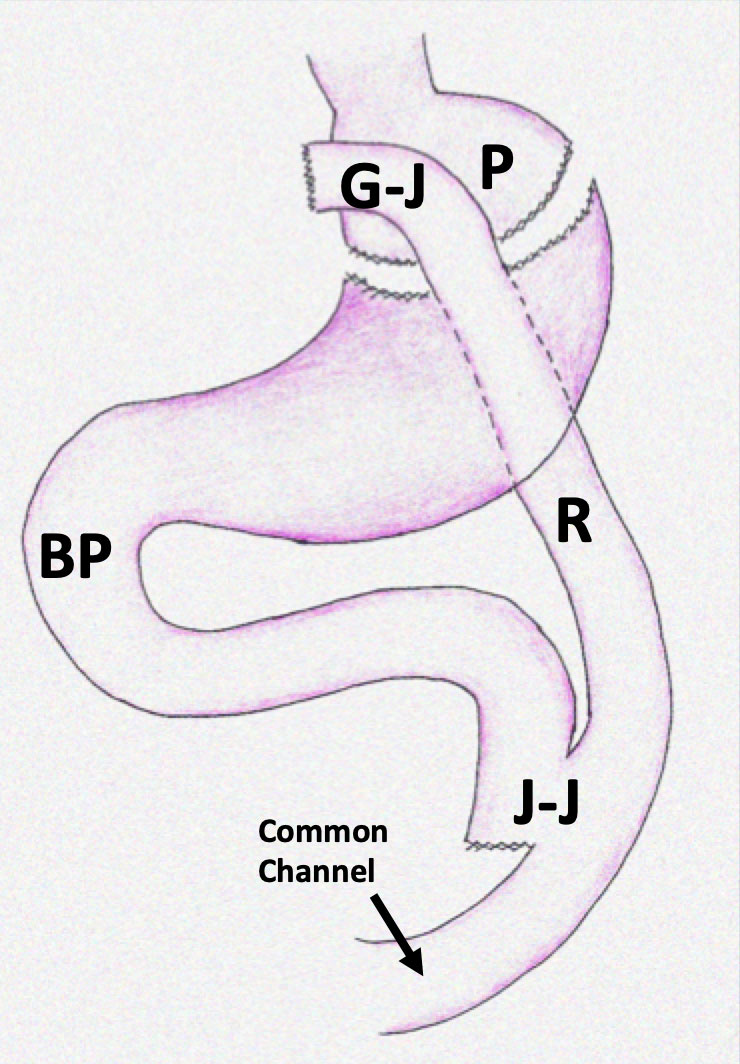 Illustration by Emily Meltzer, DMD
RYGB Procedure
Gastrojejunostomy
Antecolic vs. Retrocolic
Laparoscopic RYGB more commonly antecolic
Patient factors

Thick, fatty small bowel mesentery may not be amenable to antecolic, which requires pulling roux limb up longer distance
Diagrams in sagittal projection showing antecolic G-J (A) and retrocolic G-J (B) P: gastric pouch; R: roux limb; G-J: gastrojejunostomy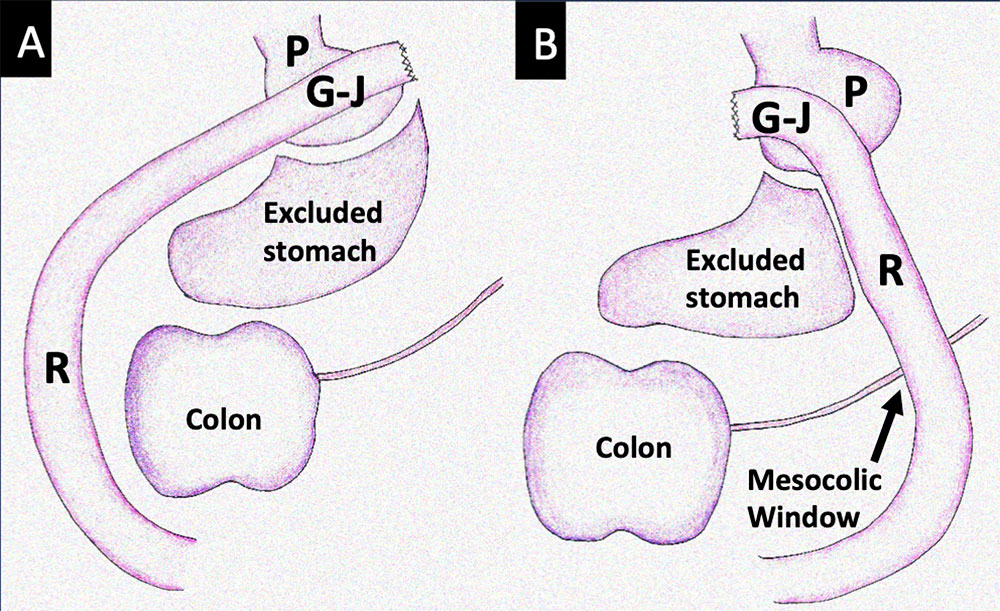 Illustration by Emily Meltzer, DMD
Approach to CT Interpretation
Be systematic
Follow the food
1. Gastric Pouch
2. G-J anastomosis

Hot spot → Leak, ulceration

3. Roux limb
4. J-J anastomosis

Hot spot → internal hernia

5. Common Channel
Follow the Juices
Excluded stomach
Biliopancreatic Limb

Hot Spots → G-G fistula/reflux
Early Complications (< 2 weeks)
Anastomotic Leak

G-J > J-J > Excluded stomach staple line

Anastomotic narrowing

Usually secondary to edema

Intussusception

Most common at J-J anastomosis

Hemorrhage

Intramural, intraluminal, mesenteric
Anastomotic Leak
Most commonly occurs at G-J anastomosis
Serious complication

Leak related mortality has been reported as high as 50%

Fluoroscopy typically initial study

MDCT useful for problem solving and evaluation for abscess
Axial CT image shows large subdiaphragmatic abscess (red arrows) secondary to leak from gastric pouch anastomosis (blue arrow)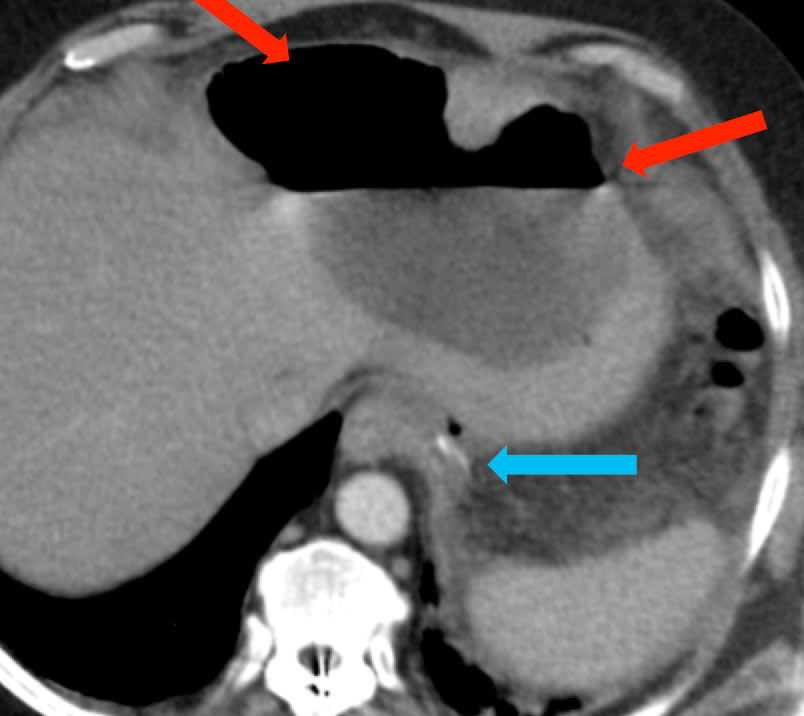 Early Small Bowel Obstruction
Obstruction of the BP limb secondary to intussusception at J-J anastomosis
Rare complication

Anastomotic edema suspected as lead point

May spontaneously resolve or require surgical reduction
Early Small Bowel Obstruction
Obstruction of roux limb at J-J anastomosis
Note acute angulation at J-J with focal bulging of anastomosis inferiorly
Diagnosed as volvulus of J-J at laparoscopy.
Mesenteric Hematoma Post RYGB
Sagittal CT image (A) and axial CT image (B) show large mesenteric hematoma (red arrows) in left hemi-abdomen 24 hours post RYGB. Hematoma is seen just inferior to G-J anastomosis (blue arrow).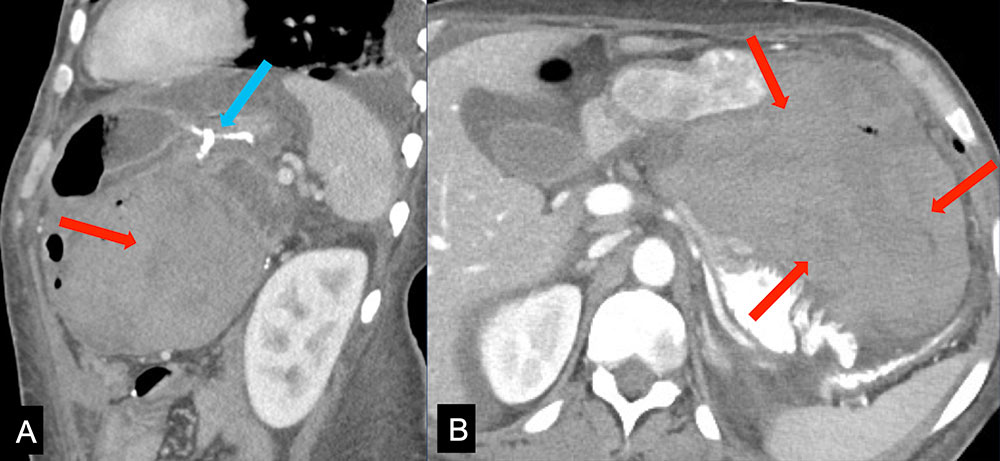 Late Complications (>2 weeks)
Anastomotic stricture
Small bowel obstruction

Adhesions, internal hernia, incisional/trocar hernia, intussusception

Anastomotic ulcers/fistulas
Gastric pouch or G-J enlargement

Implicated in weight gain
Late Small Bowel Obstruction
Dense band of adhesions resulting in obstruction of BP limb at two points

Partial closed loop obstruction

Roux limb/Common channel remain patent
Important to remember: BP limb obstruction may not be detected on fluoroscopy
Transmesentric Internal Hernia
Note swirling of small bowel mesentery about SMA/SMV axis and engorged mesenteric vasculature
RYGB patients at increased risk for internal hernia

Mesenteric defects routinely closed at surgery
With loss of weight/mesenteric fat, tiny defects may enlarge
Risk higher with laparoscopic RYGB

Theorized due to fewer adhesion, bowel more mobile
Internal Hernia
Most common sites for herniation
J-J small bowel mesenteric defect (Transmesenteric)
Petersen Hernia: space between roux limb, transverse mesocolon and jejunal mesentery
Transmesocolic

Only possible with retrocolic GJ
Common sites of internal hernia post RYGB. P – Pouch, R – Roux, G-J – gastrojejunostomy, J-J- jejunojejunostomy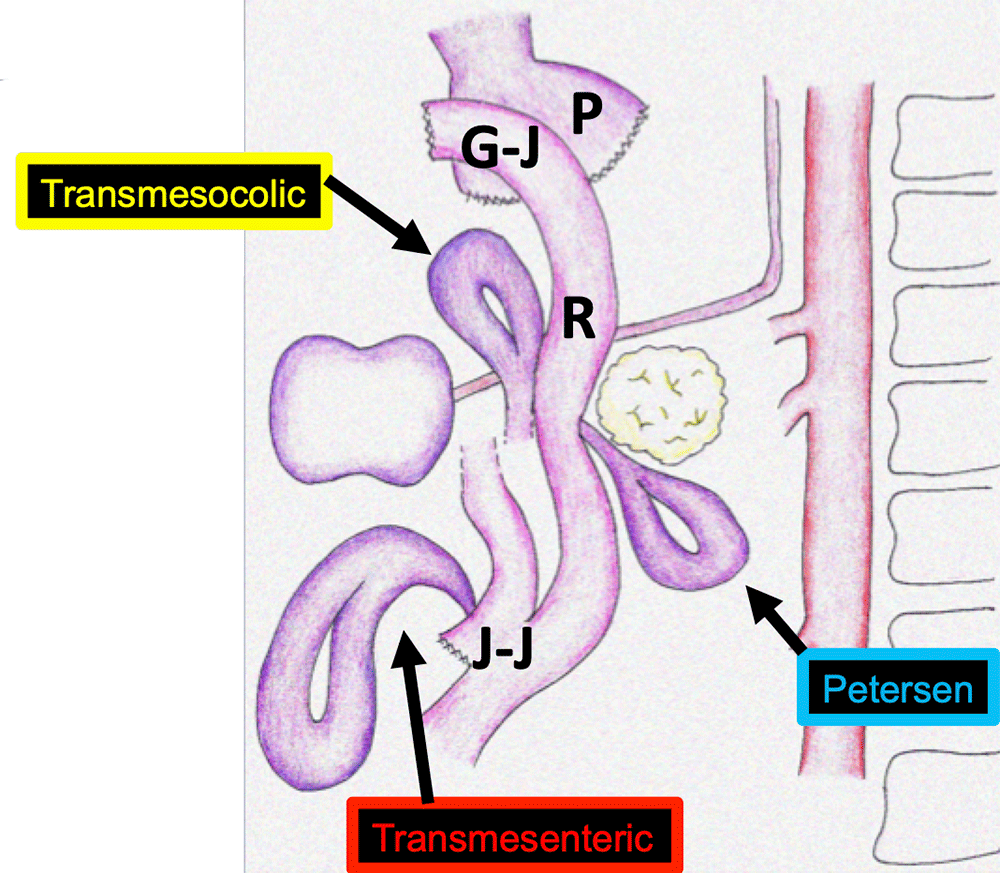 Illustration by Emily Meltzer, DMD
Internal Hernia
CT Findings
Mesenteric Swirl (A)

Most sensitive sign, should be reported if seen!

Mushroom sign (B)

Refers to shape of bowel mesentery protruding through defect

Others:

Clustered bowel loops
SBO otherwise unexplained
Change in position bowel (i.e. J-J anastomosis)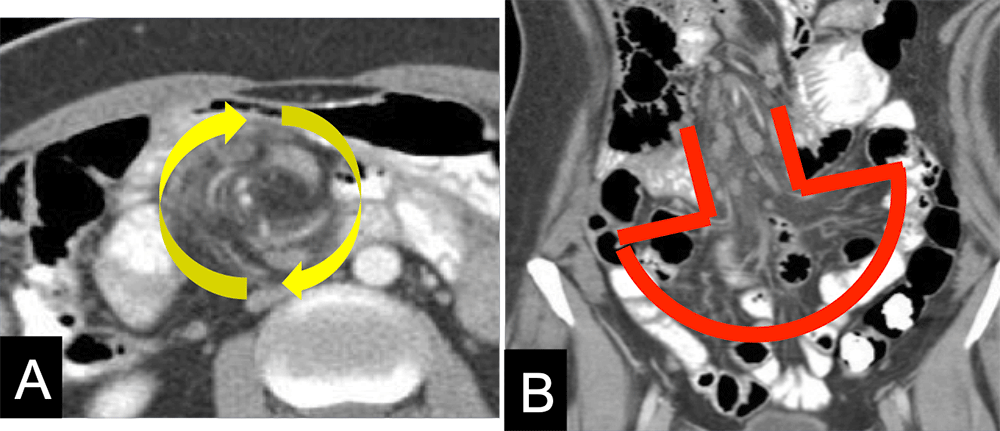 Internal Hernia
RYGB patient with chronic, intermittent abdominal pain
Axial MIP's from CT in 2007 and 2014

J-J anastomosis (red arrows) flips from left abdomen to right
Indirect sign of internal hernia
Important: J-J is almost always normally in left mid/lower abdomen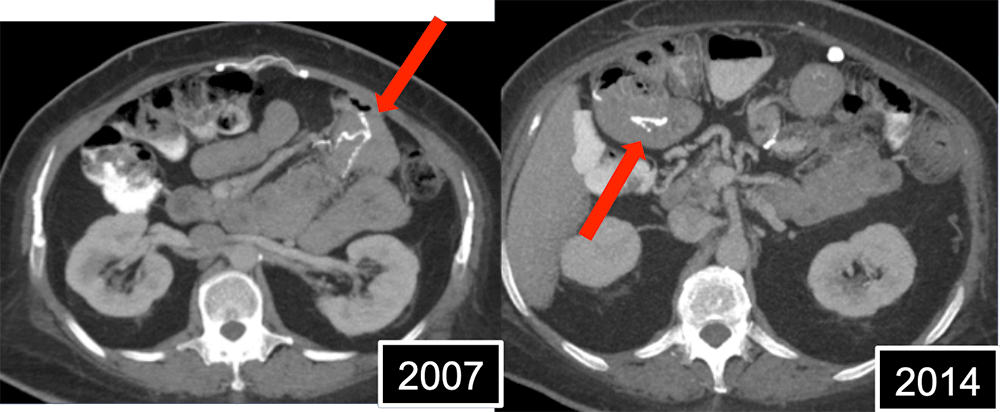 Perforated G-J Marginal Ulcer
Remote RYGB patient with severe abdominal pain. Axial CT Image shows free air in Abdomen (red arrows), with focal perforation (yellow arrow) adjacent to G-J anastomosis suture line (blue arrow). Findings confirmed at Laparoscopy.
Companion Case – G-J Ulcer
Axial CT image (A) and Coronal CT image (B) show subtle inflammatory stranding (yellow arrows) adjacent to roux limb of RYGB (red arrows), just distal to G-J anastomosis. Upper endoscopy showed deep marginal ulcer at this site.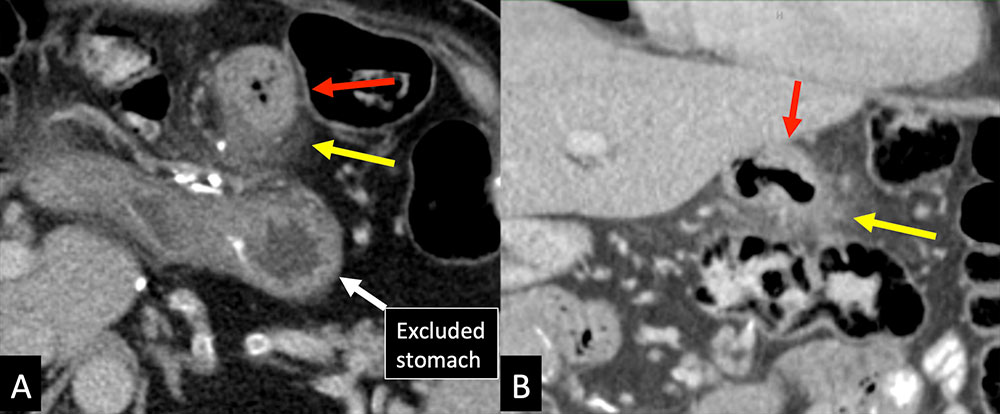 Marginal Ulcers
Incidence reported as high as 16%
Most common at G-J anastomosis

May lead to fistula or perforation over time

Causes:

Poor perfusion/ischemia at anastomosis
Gastric acid exposure to jejunum
H. Pylori
Foreign material such as suture/staples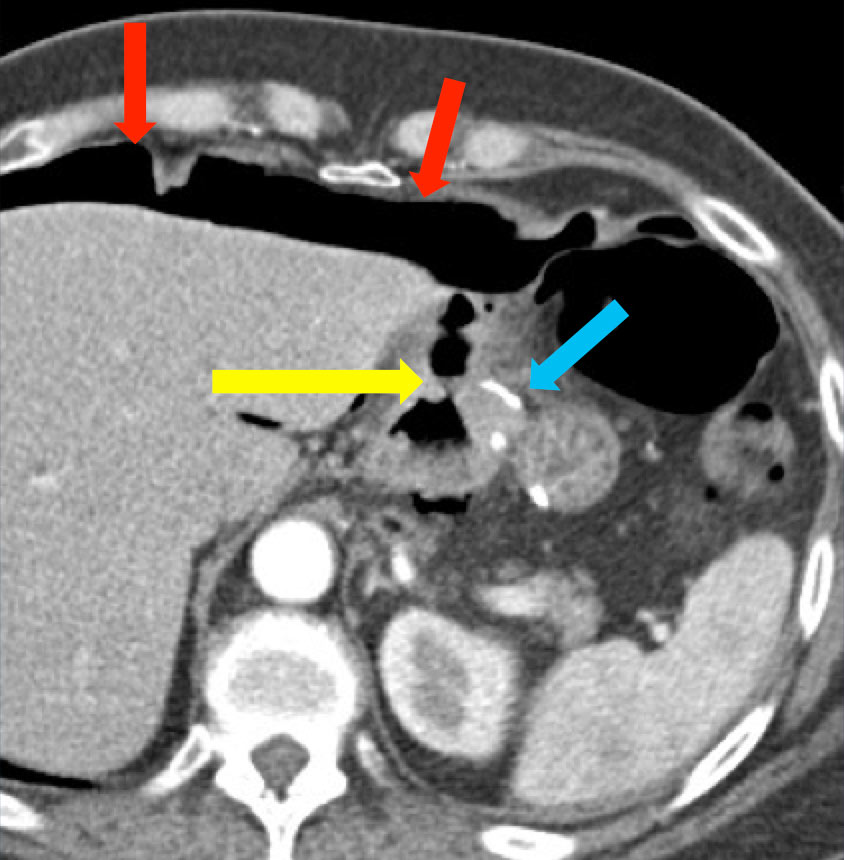 Gastrogastric Fistula
Patient post remote RYGB. Axial Images from CT show excluded stomach (blue arrows) distended with wall thickening and hyperemia. High density contrast is seen layering in excluded stomach (yellow arrow) with a small focus of intraluminal air. No contrast in BP limb. Findings reflect gastrogastric fistula, confirmed at endoscopy.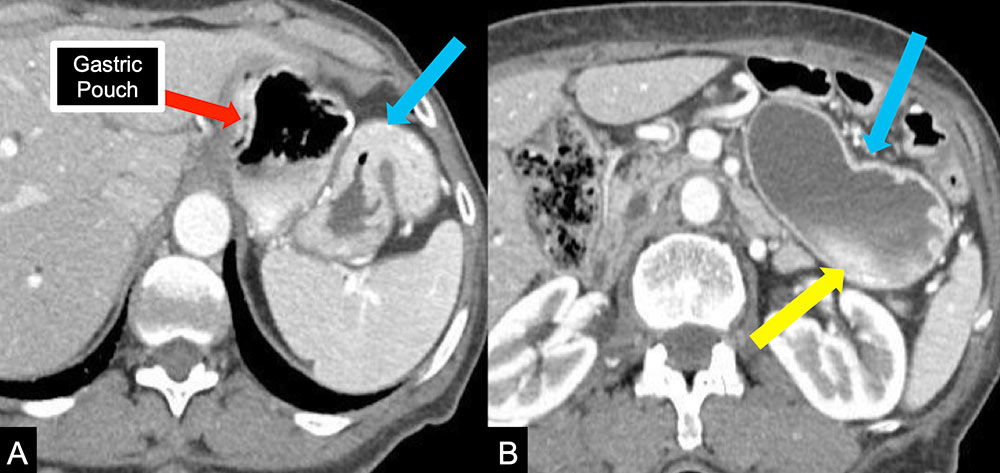 Gastrogastric Fistula
Oral contrast seen in excluded stomach in A (red arrow)

G-G fistula confirmed at endoscopy

Study 3 weeks earlier (B) without oral contrast shows moderate air in exclude stomach (blue arrow)
Air occasionally seen in excluded stomach

Most commonly from reflux up BP
Can also be secondary to G-G fistula, especially if no air seen in BP limb

Gastrogastric Fistula
Large tract connecting gastric pouch and excluded stomach (yellow arrow)
Be careful, sometimes reversed RYGB can look similar!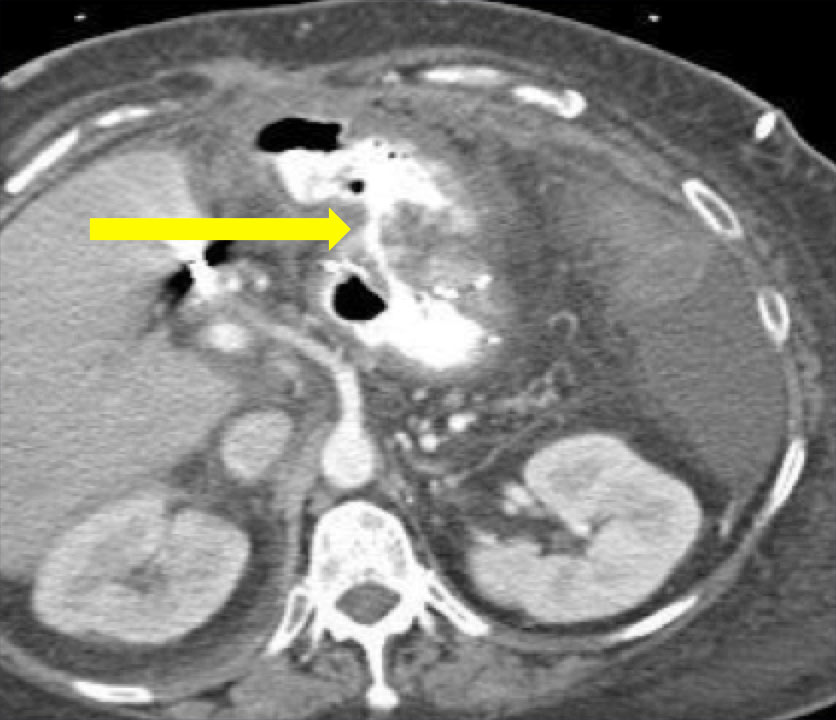 Gastric Pouch Dilatation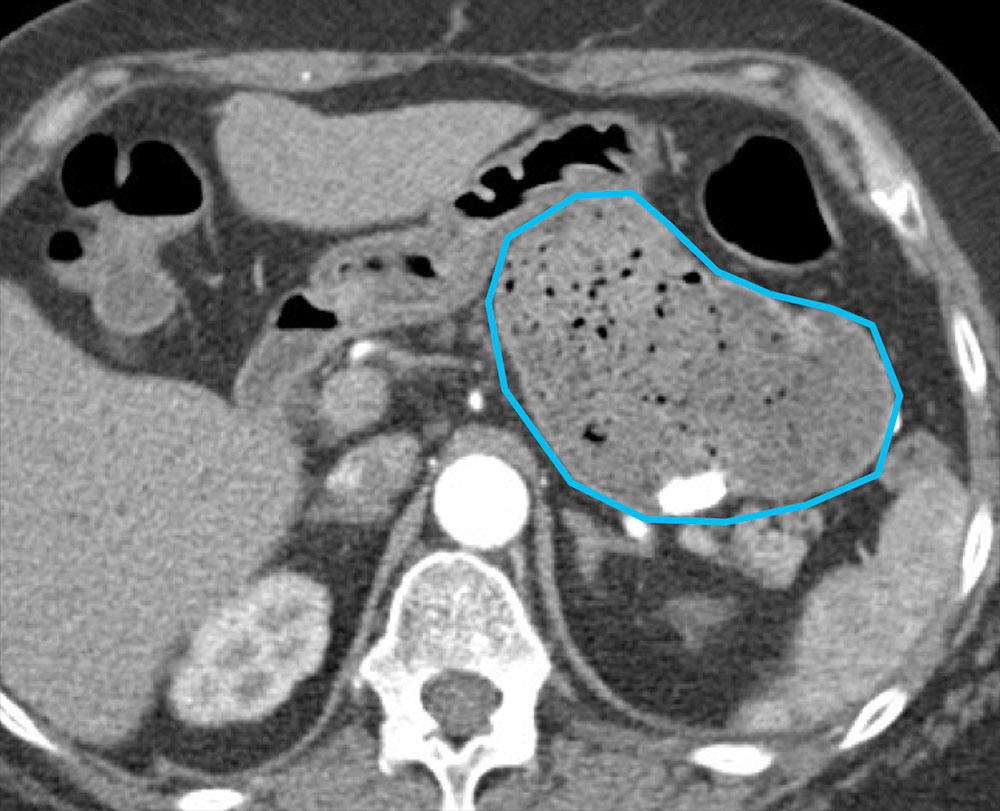 Gastric Pouch Dilatation
Gastric pouch normally has volume of 25-30 cc
Pouch can enlarge over time due to excessive food intake
Implicated in recurrent weight gain
Others causes of weight gain:

G-G fistula
Enlargement of G-J anastomosis orifice

Vertical Sleeve Gastrectomy (VSG)
Remove greater curvature of stomach from angle of His to antrum
"Sleeve" created by staple closure of stomach around bougie

Bougie typically 32-60 Fr

Results in tubular stomach configuration
Restrictive weight loss

Also favorable hormonal changes

Decreased ghrelin which is predominantly secreted at gastric fundus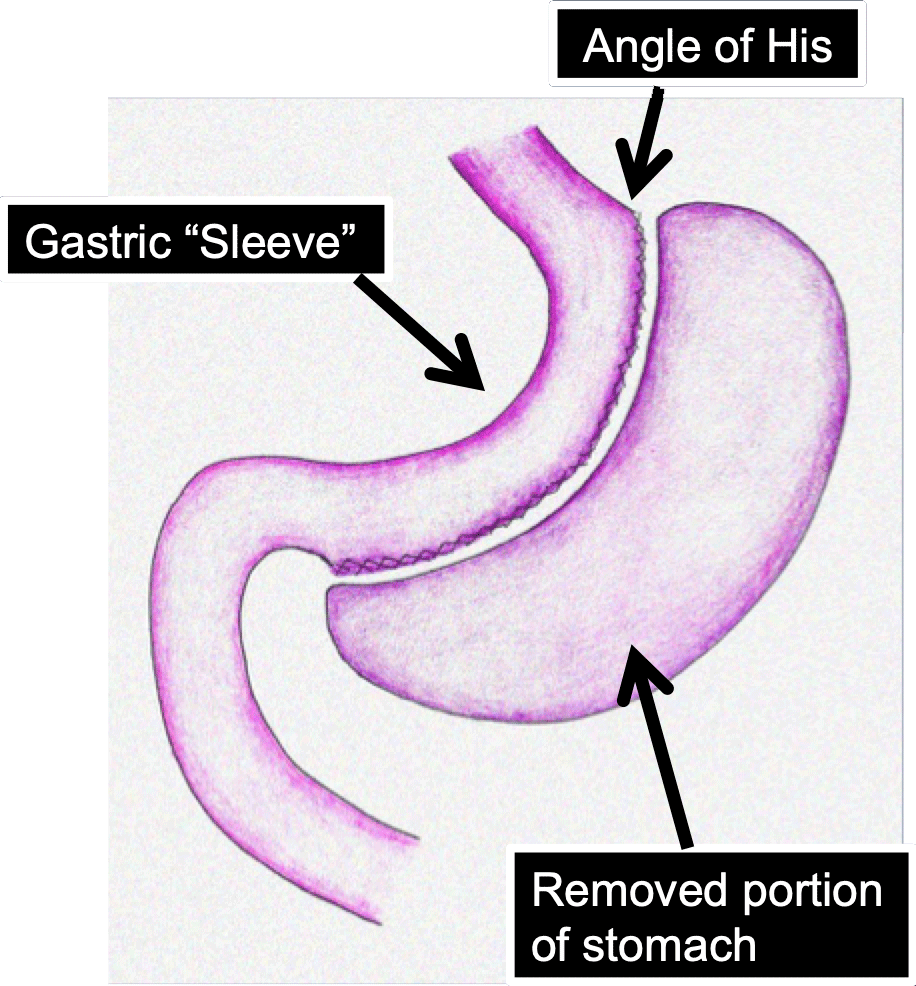 Illustration by Emily Meltzer, DMD
Complications - VSG
Early

Hemorrhage
Leak +/- abscess
Stenosis
GERD
Trocar/incision complication

Late
Anastomotic Leak
Post-op day 2 with abdominal pain and fevers. Axial image from CT without oral contrast (Fig A) shows subtle fluid collection with suggestion of internal air at anteromedial margin of spleen (red arrow) suspicious for leak. Axial MIP from repeat CT with oral contrast shows leakage of contrast into this collection (blue arrows) which is outside stomach defined by surgical suture line (yellow arrows).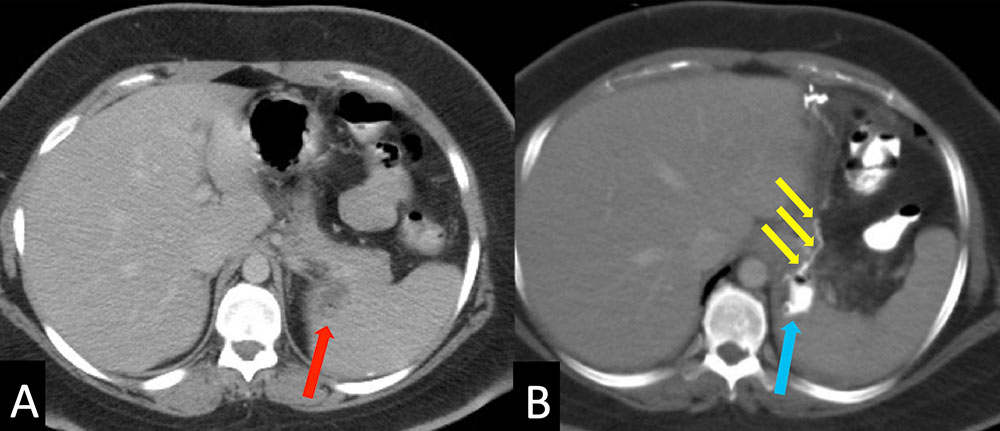 Anastomotic Leak
Increased risk following VSG compared to RYGB, up to 7%
Most common site is angle of His

Relatively decreased regional perfusion increases risk of ischemia
Gastric wall thinner in this region

Very early leak may undergo re-operative repair

Otherwise percutaneous management with drain
Axial CT image shows extraluminal air and fluid collection secondary to leak from gastric staple line (yellow arrow) at angle of His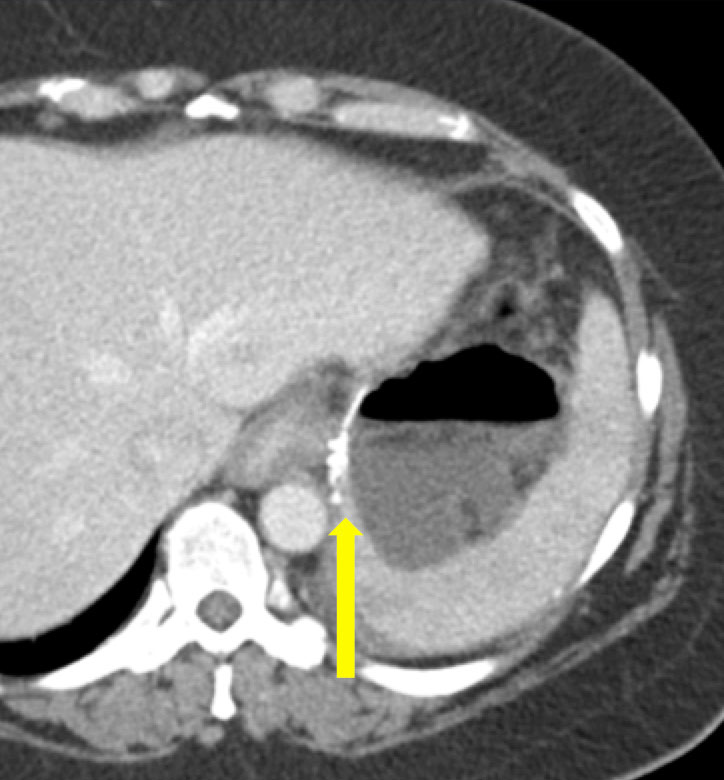 Trocar/Port site Hernia SBO
Herniation of SB loop at Laparoscopy port site in right rectus muscle

Results in high grade obstruction
Operative reduction was required
Can occur with any laparoscopic procedure
Take Home Points
With increasing numbers of bariatric procedures performed, early and late post surgical complications are likely to be encountered
Knowledge of expected post-op anatomy and "hot spots" for common complications help radiologists to make high level interpretations
A systematic approach and optimal CT Technique maximize sensitivity for findings, which may be quite subtle
References
Blachar, Arye, and Michael Federle. "Gastrointestinal Complications of Laparoscopic Roux-en-Y Gastric Bypass Surgery in Patients Who Are Morbidly Obese: Findings on Radiography and CT." American Journal of Roentgenology 179 (2002): 1437-1442.
Blachar, Arye. "Laparoscopic Adjustable Gastric Banding Surgery for Morbid Obesity: Imaging of Normal Anatomic Features and Postoperative Gastrointestinal Complications." American Journal of Roentgenology 188 (2007): 472-479.
Chakravarty, P.D.. "Comparison of laparoscopic adjustable gastric banding (LAGB) with other bariatric procedures; a systematic review of the randomised controlled trials." The Surgeon, Journal of the Royal Colleges of Surgeons of Edinburgh and Ireland 10 (2012): 172-182.
Lockhart, Mark. "Internal Hernia After Gastric Bypass: Sensitivity and Specificity of Seven CT Signs with Surgical Correlation and Controls." American Journal of Roentgenology 188 (2007): 745-750.
Reddy, Suraj. "Diagnosis of Transmesocolic Internal Hernia as a Complication of Retrocolic Gastric Bypass: CT Imaging Criteria." American Journal of Roentgenology 189 (2007): 52-55.
Scheirey, Christopher. "Radiology of the Laparoscopic Roux-en-Y Gastric Bypass Procedure: Conceptualization and Precise Interpretation of Results." Radiographics 26 (2006): 1355-1371.
Sonavane, Sushikumar. "Laparoscopic Adjustable Gastric Banding: What Radiologists Need to Know." Radiographics 32 (2012): 1161-1178.
Sunnapwar, Abhijit. "Taxonomy and Imaging Spectrum of Small Bowel Obstruction After Roux-en-Y Gastric Bypass Surgery." American Journal of Roentgenology 194 (2010): 120-128.
Swenson, David. "Gastric Band Slippage: A Case-Controlled Study Comparing New and Old Radiographic Signs of This Important Surgical Complication." American Journal of Roentgenology 203 (2014): 10-16.
Triantafyllidis, George. "Anatomy and Complications Following Laparoscopic Sleeve Gastrectomy: Radiological Evaluation and Imaging Pitfalls." Obesity Surgery 21 (2011): 473-478.
Ximenes, M.A.S.. "Petersen's hernia as a complication of bariatric surgery: CT findings." Abdominal Imaging 36 (2011): 126-129. Print.
Fernandez AZ et al. "Experience with over 3,000 open and laparoscopic bariatric procedures: multivariate analysis of factors related to leak and resultant mortality." Surg Endosc. 2004 Feb;18(2):193-7. Epub 2003 Dec 29.
Ballesta C, et al. Management of anastomotic leaks after laparoscopic Roux-en-Y gastric bypass. Obes Surg. 2008 Jun;18(6):623-30.
Gonzalez R, et al. Diagnosis and contemporary management of anastomotic leaks after gastric bypass for obesity. J Am Coll Surg. 2007 Jan;204(1):47-55
Elder KA, Wolfe BM. Bariatric Surgery: a review of procedures and outcomes. Gastroenterology. 2007 May;132(6):2253-71.
Burgos AM et al. Gastric leak after laparoscopic-sleeve gastrectomy for obesity. Obes Surg. 2009 Dec;19(12):1672-7. doi: 10.1007/s11695-009-9884-9.